Tips & Guides
BEST
[Guide and Tour] Calpheon City Contribution Quests
# 1
When you have a lot going on in real life, you spend most of your time playing BDO AFK Lifeskilling, but your BDO time doesn't have to end there. There are daily quests that you can do, and you only need less than 30 mins a day. One of those Daily Quests is the Calpheon City Contribution, which gives contribution points, combat and skill experience. Once you have this daily memorized, it only takes 15 minutes at maxmimum to complete.

JOIN ME:
SERVER: H1
VENUE: CALPHEON CITY (BESIDE RUBIN)
TIME: 1PM GMT+8 (SG/MY/PH)

You will Need:
1x Cedar Plank
1x Sweet Potato Flour
1x Mineral Water

1. Chimney Sweeping 1


NPC: VILLAGER in front of Armor Dealer Grandus.
GOAL: Sweep the chimney on the roof behind him.
HOW: Climb the red and white colored awning behind Carpet Vendor Giovanni Romano, turn right twice until you reach the chimney. Jump down and talk to villlager once done.

2. Cedar Club



NPC: Tavern Owner: Fredelles Herba
GOAL: Give Cedar plank
HOW: Talk to him again after getting the quest, and give Cedar plank.

3. What a Dirty Chimney (Chimney Sweeping 2)
NPC: Facing Material Vendor: Geranoa's shop, turn right to speak to VILLAGER.
GOAL: Sweep the chimney on the roof to his right hand side.
HOW: Climb the flight of stairs, jump to the roof, and jump back down.

4. A Scent Trolls Loves


NPC: General Good Vendor: Alchem
GOAL: Give Alchem Sweet Potato Dough
HOW: Press L for processing (shaking). Shake 1x Sweet Potato Flour and 1x Mineral Water to make Sweet Potato Dough.
NOTE: You should only shake once you have the quest, you cannot submit a Sweet Potato Dough that was prepared beforehand.

5. A Port Keeper's Pressure


NPC: Port Keeper
GOAL: Carry Box Unloaded from Ship to Fish Vendor: Ario.
HOW: Box will be right in front of Port Keeper (if none available change server). Carry the box to Fish Vendor: Ario. Drop it beside him, talk to him to complete.

6. An Old Lady's Means of Living



NPC: Old Lady North East of Fresnio
GOAL: Catch Grandma's Chick around the courtyard.
HOW: Approach 1 of the chicks (yellow), press R and then return to the Old Lady.

7. Timber From Trent


NPC: Footrest Maker
GOAL: Bring cart of logs to Footrest Maker.
HOW: From the Footrest Maker, turn left until you reach the outside of the city gate. The cart will be on your left before reaching Stable Keeper: Romary. Push the cart back to the Footrest Maker. Minigame pressing left and right mouse button, making sure that the cart icon stays within the black area of the gauge.
NOTE: I choose Cedar Timber for reward. See No. 2.

8. Dirty Chimney Sweeping (Chimney Sweeping 3)



NPC: Workshop Staff
GOAL: Sweep the chimney on the roof in front of her.
HOW: Use the lift right beside her. Cross the bridge to the roof. Jump back down.

9. Jealousy Is my Strength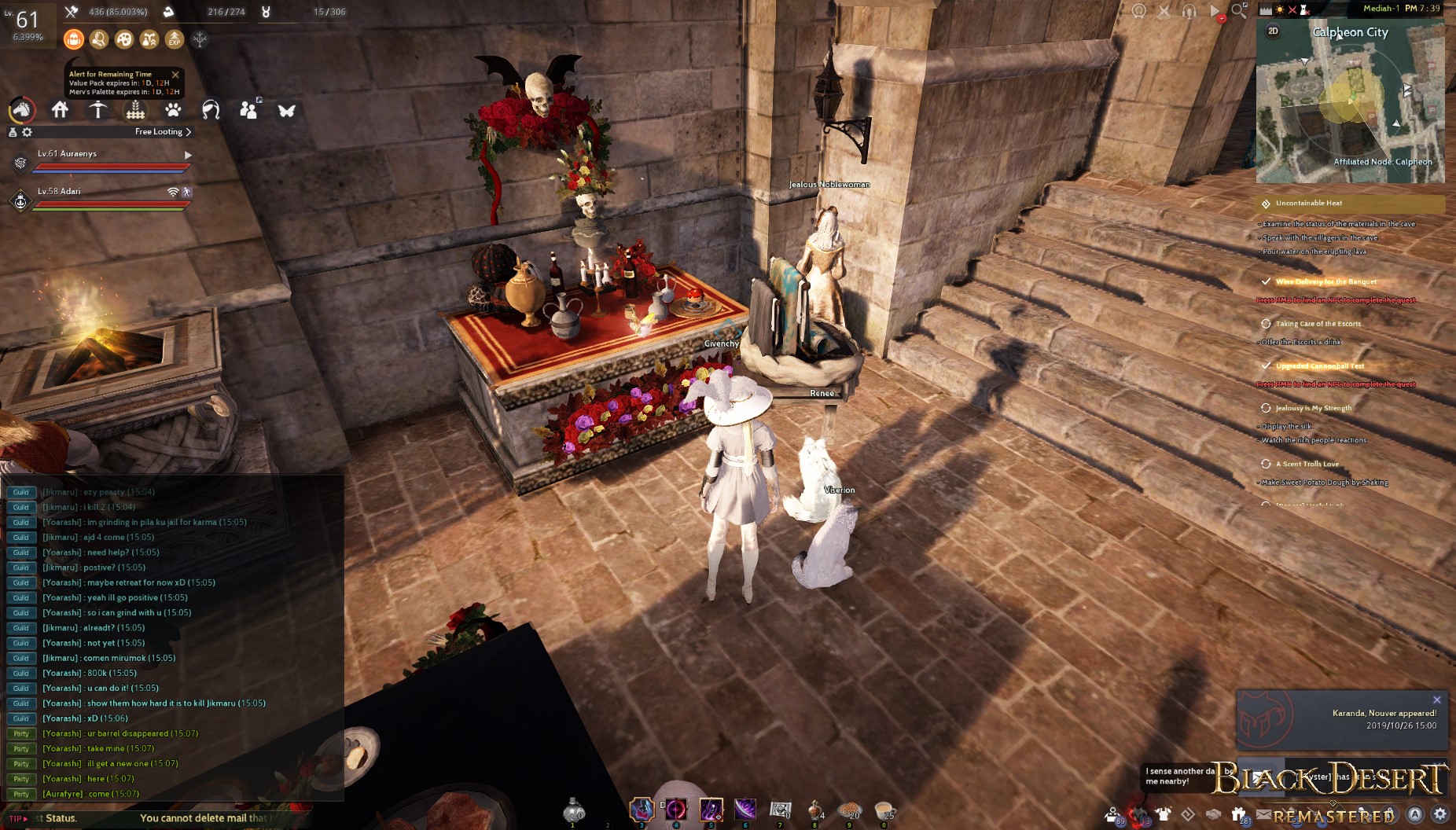 NPC: Weaver
GOAL: Bring Newly Weaved Silk to Jealous Noblewoman in banquet.
HOW: Interact with Newly Woven Fabric just beside the Weaver. Bring to the Jealous Noblewoman in the banquet. Right click on Newly Woven Fabrin in your bag. Talk to Jealous Noblewoman. Complete by talking to Haughty Noblewoman near the benches.

10. Upgraded Cannonball Test


NPC: Cannon Maker
GOAL: Test Cannonball on Test Cannon.
HOW: Go to Test Cannon in a farm outside the city (outside South gate) and test the cannonball on the test cannon. Behind Stables (Stable Keeper: Ashrogue).

11. Prancing Lamb



NPC: Xian Merchant Guild
GOAL: Bring the Prancing Lamb
HOW: Get Green Herb from NPC beside Xian Merchant Guild. Walk towards the gate (South Gate) and feed Prancing Lamb with Green Herb (right click in your bag). Take the Prancing Lamb.

12. Wine Delivery for the Banquet


NPC: Esh
GOAL: Bring keg of wine to Noble in banquet.
HOW: Get High Quality Wine (keg) to the left of Esh. Carry it to the Noble in the banquet.

13. Taking Care of the Escorts



NPC: Protest Raid Party
GOAL: Offer the escorts a drink
HOW: Talk to escorts and offer drink.

14. The Carrot and Stick


NPC: Noble
GOAL: Bring food to the Hungry Protester in Slum District from the banquet hall.
HOW: Take Hearty Meal from Feast table in the banquet hall. Right click on Hearty Meal in front of Hungry Protester. Interact with Hungry Protester in the Sum District. Return to Noble to complete quest.

15. Forbidden Prank



NPC: Guard
GOAL: Find hiding protesters and bring them to the Guard.
HOW: Interact with Furious Protesters. Walk with them back to the Guard. If you walk back too fast, the Furious Protester will run away and you'd have to get a new one.

16. Calpheon Illegal Propaganda Leaflets



NPC: Guard (just behind Guard in No. 15)
GOAL: Bring Illegal Leaflet to Guard.
HOW: 2 Illegall Leaflets on fountain behind the Guard (in front of Valk). Interact with it and return to the Guard to complete the quest.

17. Peep


NPC: Choir Member
GOAL: Give bread to Peep and pet it.
HOW: From Choir Member, run straight and turn left to ther farm outside the city gate (West in map). Interact with Bread Sack. Go to Peep and right click on Bread for Peep in your bag. Pet Peep and return to Choir Member to complete the quest.

18. Stringy Herb (12:15 PM to 9PM) /Moon Pearl (5AM to 7AM)


NPC: Priest Romina/Daria
GOAL: Bring Stringy Herb or Moon Pearl to Priest Romina or Daria, respectively.
HOW: Stringy Herb/Moon Pearl can be completed at the in-game times above.
NOTE: If you can see the Stringy Herb in the area and can interact with it, it means Stringy Herb Quest can be completed. Moon Pearl can be seen all the time but you cannot interact with it if it's not within the quest time.

19. Happily Ever After (COMPLETE QUEST: Reproductivity of Rabbits to Unlock)



NPC: Nina
GOAL: Bring rabbits to Cattle Seller.
HOW: Interact with Cattle Seller (no need to interact with Rabbit unlike in prerequisite quest, Reproductivity of Rabbits).

20. Rations from the Wheat Plantation



NPC: Protesters
GOAL: Bring Sack of Rations to the Protester.
HOW: Take Sack of Rations near North Gate (in front of Rubin). Carry the Sack to the Protester.

21. Valkyrie's Treasure



This quest can only be completed once you have collected 7 Small Sword Fragments arranged in a cross (uncheck auto arrange in your bag, I line 5 down and put 2 on the 2nd row). You will get Valkyrie Dagger which you need to opne the Valkyrie's Treasure.
NOTE: CHIMNEY SWEEP QUESTS DO NOT RESET at 12 MIDNIGHT. IT RESETS 24 HOURS AFTER COMPLETION.
xoxo Aura
2019-10-26
# 2
True dat. I got most of my CP doing these quests as well.
2019-10-26
# 3
Though I folow a different route I got my last 60CPs just doing these quests.
2019-10-26
# 4
Thanks Sun and Drunken! @Drunken, come with me I'll show you my route, then compare which is faster.
xoxo Aura
2019-10-26
# 5
It be better if you include what reward you get (How many CP earned and other misc.) for reference.
2019-10-26
# 6
That's a great advise Aliya! Thank you for your input!
xoxo Aura
2019-10-26
# 7
hmm white.. white
2019-10-26
Character Name
Veonya
SUPPOTER
Lv61
# 8
Join me daily V!
xoxo Aura
2019-10-27
# 9
Starting in 10 mins!
xoxo Aura
2019-10-27
# 10
Thank you to everyone who joined! Kindly post your screens here. We do this daily at 12 noon GMT+8.
xoxo Aura
2019-10-27
# 11
Thank you for everyone who joined earlier! To those who messaged me in-game and Discord earlier today, please see details on original post.
Thank you!


xoxo Aura
2019-10-29
# 12
Calpheon isn't my go to city but this is very helpful. :)
2019-11-01
# 13
ivebeen tryign to open the treasure chest with Silver and Gold keyXD but it doesnt work now i know why coz i need the dagger
2019-11-01
# 14
This is so detailed! Thnks keep up the good work!
2019-11-01
# 15
Glad to know this was helpful! If you want to see the route I take to finish this in 15 mins max, join me any day at 1PM GMT+8. Just comment bellow or message me in-game.
Family: Aurafyre
xoxo Aura
2019-11-02