[Housing] Aurafyre's Humble Abode
# 1
Hi All, so I just finished decorating my house. For a long time I just had cooking utensils and alchemy tools in it, but thanks to the Interior Sale, I was able to get a furniture and prop set. Also, I started using the furniture shop in Calpheon city to make some of the drawers, seating and drapes. If you want to see it in-game, it's Market District 6-2 in Calpheon city. Look for Family: Aurafyre.
LINK TO HOW I DECORATED MY HOUSE
Living and Dining Room
Kitchen
Art Gallery
Library
Master's Bedroom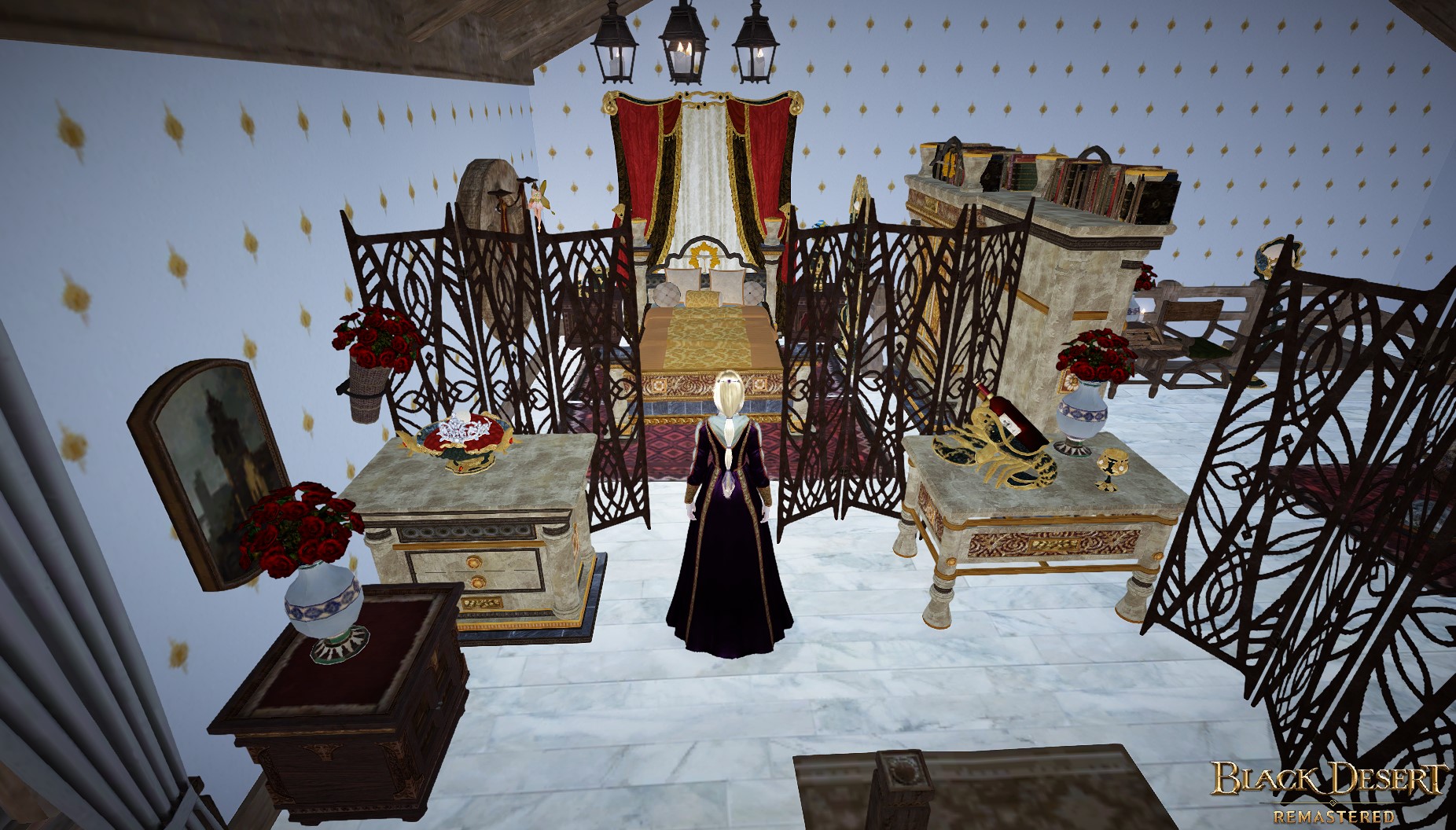 Guest Rooms
View from My Balcony
2019-12-01
# 2
Nice Big house :3
2019-12-03
# 3
Thank you Shinku!
2019-12-03
# 4
Nice house, i see a lot of effort put into it. Refreshing to see a well thought out layout than the usual spam of partitions to get high points or the usual spam of worktools for a factory.

That masterbedroom needs better partitions for better privacy -wink wink-



2019-12-03
# 5
A beautiful home fit for a beautiful Calpheon noble.
2019-12-03
# 6
@Velsath, I couldn't find any other partitions. I didn't want to use wardrobes since it's too bulky. Do you know of partitions that provide more privacy?
2019-12-04
# 7
@Florentino, I actually wanted to get the Noble Quarter 1-3, it's the biggest house with 3 floors, and I found that out by manually checking each house in that area omg. But it's too far from everything (storage, central market). Maybe when I have more stuff, I'll use Marketplace 6-2 as my cooking/alchemy place, and move all my furniture to Noble quarters 1-3. Grana 4 is still but a dream, in the far future maybe when I have a lot of furniture. Show me yours too soon!

2019-12-04
# 8
Great post! Love the setup!
2019-12-06
# 9
Thank you kas! Thank you all for the positive feedback!
2019-12-07
# 10
So this is why you asked to let you show me your house! Lol someone is f-in ballin'!
2019-12-12
# 11
Hi Queen, yes Im so proud of my house because for 10 months, it was just cooking utensils and alchemy tools. I just got into furniture crafting after I was able to buy a furniture and prop set last Nov when it was on sale. Once I have more stuff I will move to the biggest house in Calpheon which has 3 floors! Hope you like it. You can visit it ingame, Calpheon City, Marketplace 6-2.
2019-12-13
# 12
I'll visit your castle sometime soon! (Because I dont have a house and dont even know how to buy one lol) Btw, i found your skin quite amusing. Really pulled off the royalty look with the house and all!
Cheers!
2019-12-13
# 13
Hi, I'm making a guide on housing soon. What do you mean by skin?
2019-12-14
# 14
Skin = costume ;)
2019-12-14
# 15
Thank you for clarifying! That is my default dress whenever I'm in town, unless I'm doing dailies or fishing, I wear the below:


If it's other Lifeskill, I wear the appropriate costume (processing, cooking, training).
2019-12-16
# 17
You were supposed to make a tiny childrens' room for me and my visiting shais like @Tepess @Affig and @Elronir??
2019-12-21
# 18
I have 2 guest bedrooms with 2 full size beds. Even 6 Shais can fit.
2019-12-21