[Housing] Own A Residence and Decorate It
# 1
A couple of weeks ago I shared screens of my completed house in Black Desert. Now I would like to share my experience to encourage you to get your own and decorate it too!
This will cover Housing as in RESIDENCE. Other house uses like storage, crate workshop, etc are not covered.

Housing is essential to almost everyone if not to all. Lifeskillers mostly, for those cooks and alchemists, but everyone at some point needed a house, even to just complete a quest. I got my house a few months after I started playing, but it was more functional than anything. I didn't decorate it and used it as a cooking and alchemy warehouse.
1.) I didn't have the money to decorate.
2.) I chose to focus on leveling my Lifeskills.

But one of the major things that brought me to Black Desert was the housing feature, and I still consider it my end-game.

Fast forward to almost 1 year (Dec 29 - Happy Birthday Auraenys!), my major Lifeskills are on Guru and Master level, and my others on Artisan and Professional, my battle gear, although still not the best, can already grind most areas in the map, I figured it's time to add aesthetics to function, and finally turn my warehouse into a house.

Getting Started

First you need to choose which city you want to live in and the house in that city. You will need contribution points and they vary depending on the size.
I used this guide for a floor plan of all the houses in Black Desert.

NOTE: The floor plans that have 1F or 2F on its name denotes that the house is just 1 floor, either 1st or 2nd floor of that building. Some houses that do not have these have 2 or more floors, and may be bigger in size.

NOTE II: The biggest house in Calpheon is Noble Quarter 1-3 with 3 floors. Biggest house in Grana, and in the game is Grana 4 with 4 floors (Loft type).
(CREDITS: ArcOfSuccessor - owner of the biggest, most expensive house in-game)

Personally, I chose a house that is strategically near the central market and storage. There's also housing for red players in Muiquun, and red player friendly housing in the outskirts of major cities (ex. Calpheon East Gate, and although not on the map, there's a Central Market right beside Old Moon NPC - Lajee).

Once you've selected your city and house, it's time for the best part, decorations!

Decorating Your House

I got my headstart with decorations during the Pearl Shop furniture sale last November but don't fret, you can have a house full of stuff, free of Pearls!

Depending on your house's location, some Pearl Shop furniture can look out of place, for example Coral furniture and prop set in Calpheon looks off for me. The key is to mix and match these with crafted furniture from the Furniture Workshop.

Furniture workshops have a maximum of 5 levels, and can craft a different looking furniture based on the city where you got it:

Calpheon - Workshop District 2-3, 2F [Lvl 5]

Heidel - Heidel 5-3 [Lvl 4]

Velia - Velia 2-3 [Lvl 2]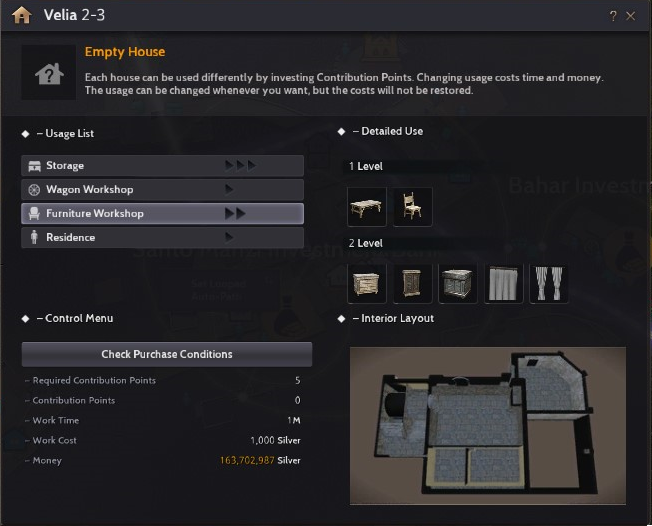 Altinova - Altinova 10-4 [Lvl 4]

Grana - Grana 5 [Lvl 5]

Valencia - Valencia 15-5, 2F [Lvl 5]

NOTE: There are other Furniture Workshops in these cities, I only provided the one that can be leveled to max in that area.

Preferably, choose a Furniture Workshop in the same city as your house for easier transport, but you can have your furniture workshop in any other city.

Once you've selected the workshop, invest some contribution points, and level it up accordingly. Now you can select which furniture you want to make, make sure all the materials required are inside your storage and you have an available worker (same city as where the workshop and worker is). Wait for your furniture to finish, and collect it from your storage.
You can hover on each craftable furniture for the materials needed to make them.

Placing furniture can be tricky, and borderline frustrating, especially if you really want to place items symetrically with the walls or the furniture beside it. They key is to zoom and angle your camera like the screen below.
Click PLACE MODE (upper middle part of your screen, inside your house)

Click the DOWN to place your furniture on an empty space on your house
Click the ROTATE LEFT to angle your furniture (45 degrees, 90 degrees, and so on)
After ROTATE LEFT, at a 90 degree angle, you will see the below before confirming the final placement
Confirm the furniture placement by clicking the DOWN button again or spacebar.
When placing furniture, pay close attention to the area selected in blue. As long as this is kept straight, and not rigged, then the furniture placement will be symetrical.
Hopefully they will allow for a closer zoom in future updates, but angling the camera so it is almost parallel with the floor helps you to see if you are positioning the furniture correctly.
Also, when rotating your furniture, ensure to place it on a straight line on the floor first, even if you intend to rotate it to a different angle. This will ensure that pressing [ and ] to change the angle gives you an even 45 degree to 90 degree angle move. You can try rotating the furniture before placing it and will see that not confirming its placement first will give you odd angles when you rotate it.
There are also amity furniture, which you can get if you have enough amity with the vendor, boss furniture and for all other furniture you can buy, check Central Market:

You can also customize your walls and flooring by buying these in the Pearl Shop. It's a personal choice.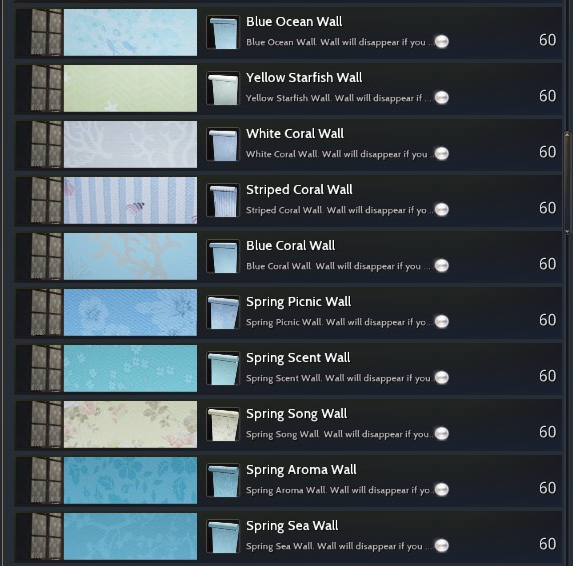 For those who don't want all the effort in crafting their own furniture, you can always buy furniture sets in the Pearl Shop, these sets also provide a set bonus if you really want to get your house to number 1. Each furniture set differs in design but comes with the same type of furniture selected in BLUE below. There are also prop sets, the contents of the prop sets differ from each set. These add details to your house to make it come alive and truly turn your house into a home.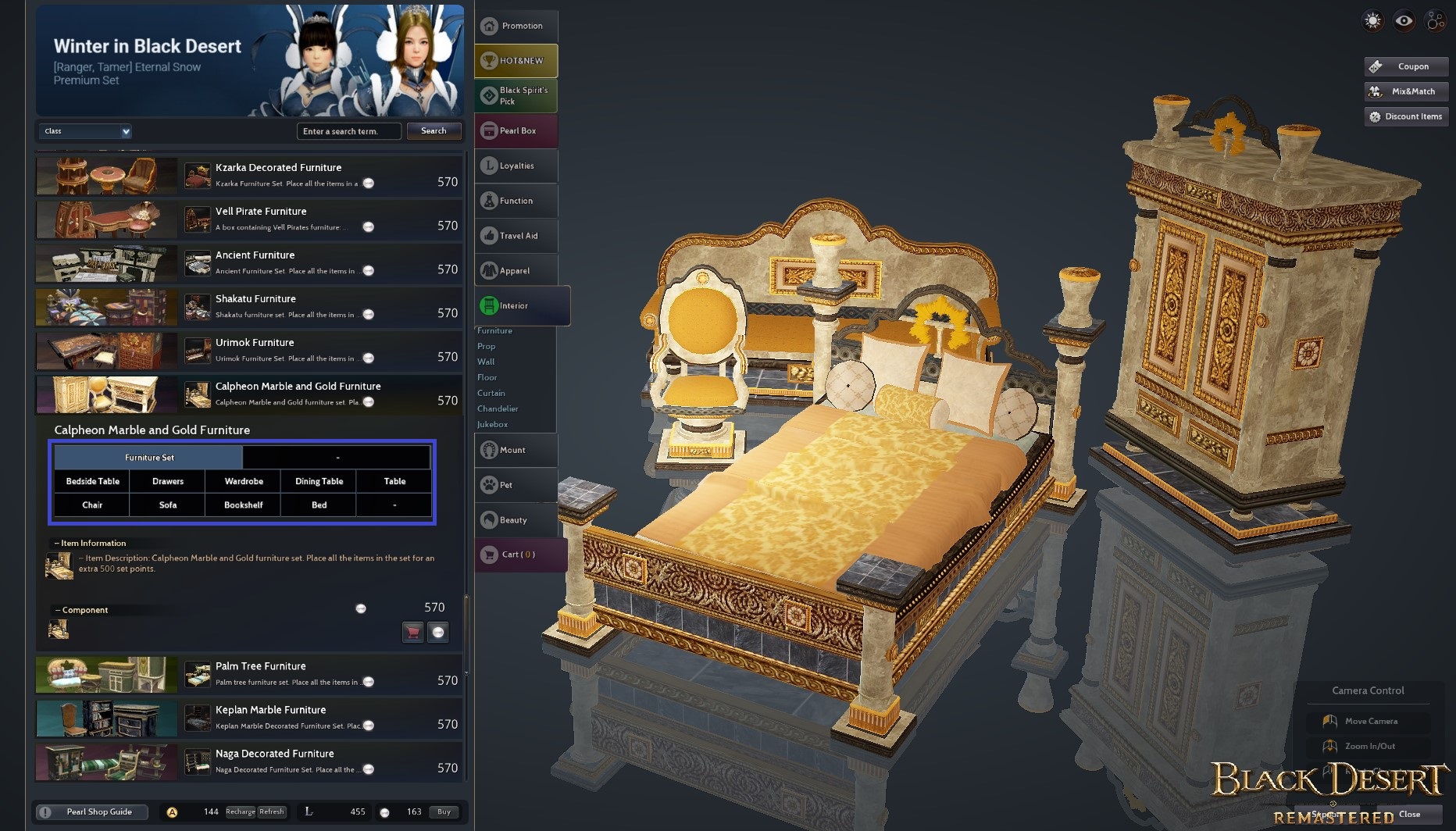 Share screens of your completed houses or any suggestions you may have on how to improve player housing experience in the comments below.
2019-12-18
# 2
Very detailed explanation sweet!!
2019-12-18
# 3
your house really looks comfy, and i love it!
2019-12-18
# 4
forgot amity furniture, NPC furniture, Imperial Furniture, Quest Furniture, Gathering Furniture (fox head, flowers. etc), World boss Furniture
2019-12-18
# 5
Thank you all for your feedback!
2019-12-18
# 6
@Lioness Thank you for that! I edited it to include all decorations you can buy from the central market and amity furniture from NPCs.
2019-12-18
# 7
Really like your work, please continue to provide the community with more in depth info about variety of things that can be done in BDO aside grinding.
2019-12-19
# 8
I wanna make a decent house. LOL
2019-12-19
# 9
Can tell you put in alot of effort to come out with all these, I thank you on behalf of BDO community. Many thanks.
2019-12-19
# 10
Thank you Arcillius and Dirthamen! I always keep your suggestions in mind when writing these.

2019-12-19
# 11
Gonna save this post for when i have enough to buy one XD
2019-12-19
# 12
Glad I can help Chulainn!
2019-12-19
# 13
Hi Aura, do you have any ideas on when the japanese sushi decoration will be released?
2019-12-19
# 14
Hi Arcilius, I'm afraid I have no idea. But if ever they release it then we can most definitely should get them. Add food to our empty dining tables.
2019-12-19
# 15
Thank you for your prompt reply, Aura! hope to see you around in game.
2019-12-19
# 16
Thanks too Arci! I'll see you ingame too!
2019-12-19
# 17
Omg such detailed guides. Rarely someone would cover this. Thank you so much
2019-12-20
# 18
You're welcome Reveranda! When you're a non-combat player you notice a lot of other things in-game, and they're quite fun too.
2019-12-21
# 19
you shifting to Grana soon??
2019-12-21
# 20
Hi V, when I have enough money to buy a lot of furniture, maybe. My character is a bit busy now so cannot retire to my future mansion, Grana 4.
2019-12-21
# 21
At one point i'll get into housing; saved post for future.

Just shame that we don't have customize-able wallpapers. Think devs should make something like that as this was in Archeage and maplestory.
2019-12-21
# 22
Hi Velsath, customizable wallpapers omg, that would be great! You can literally upload any image on the internet. Future update maybe? Crossing fingers! Glad I can help.
2019-12-21