General Discussion
BEST
GL Shai Music Collection #1 by Supporter
# 1
Heya~ Fellow Adventurers!
Are you all excited about the Guardian class release?
I'm sure you are all busy leveling up and playing your guard :)
Sadly, this post will not be about Guardian.
But today i'm here to show you some work i prepared for the future content of SHAI which is the Compose and Perform update where you can make your own music.
Shai players can play their favorite tunes, Yay! (づ。◕‿‿◕。)づ But it's still so far off! >.<
Note that this is still not released on SEA server atm.
Below is a YT video of my GL Shai performing some short songs.
Did you enjoy the music my shai played? ~(˘▾˘~)
well, it's a bit complicated to make them from scratch if you have no guide or music sheet to follow and it takes a lot of time, So i'm planning to share the ones i made when the update goes live but will porbably be at the end of Q1 which is still far off. Right now, i'm enjoying making music for my shai in GL.
And i think i will have to remake all of the ones i made before because it is a GL file and PA said they are not sure if it will be possible to import the files to the main game.
So if there is no file transferring or an upload/download feature for music album, i would maybe make a guide that you can follow somewhere. It's still far off anyway. (ง'̀-'́)ง
Also if you can make your own shai music cover that'd be awesome! i just hope you can share it with everyone too :) lol
we are limited to 30 Bars length and 500 key note (GL player told me key notes can increase to 1000 thru quest, not sure if true tho) which likely won't be able to complete a full song, like the Country Roads i played has a squeezed ending because i tried to make it fit.
Anyway what you see above is the destination folder of the music shai makes once it's done in GL, i am not sure if a simple copy paste will work here even if it is released on the main game and made it from scratch there, i'm not sure if it can be copy pasted to other people. But i have the files i need to make these again and i won't have to start recording the input keys again from scratch which was hard and time consuming when i first tried so i can maybe just send out a file or pictures of notes you can follow.
Want to request a song? ʕ•ᴥ•ʔ
The update is so far off that you probably would have learned how to make one yourself but you still can. Just leave a comment here or DM me if you see me in-game and i will consider making it. I will however review if some parts of the song will fit i.e Intro - Verse - Chorus, if not i would just take one part most likely the chorus and make it. We can't play full songs with shai since we are limited with bars and notes but it can be split into parts to complete a full song but will have to manually play them once the first part is over.
What would it look like making your own Tune? (▀̿Ĺ̯▀̿ ̿)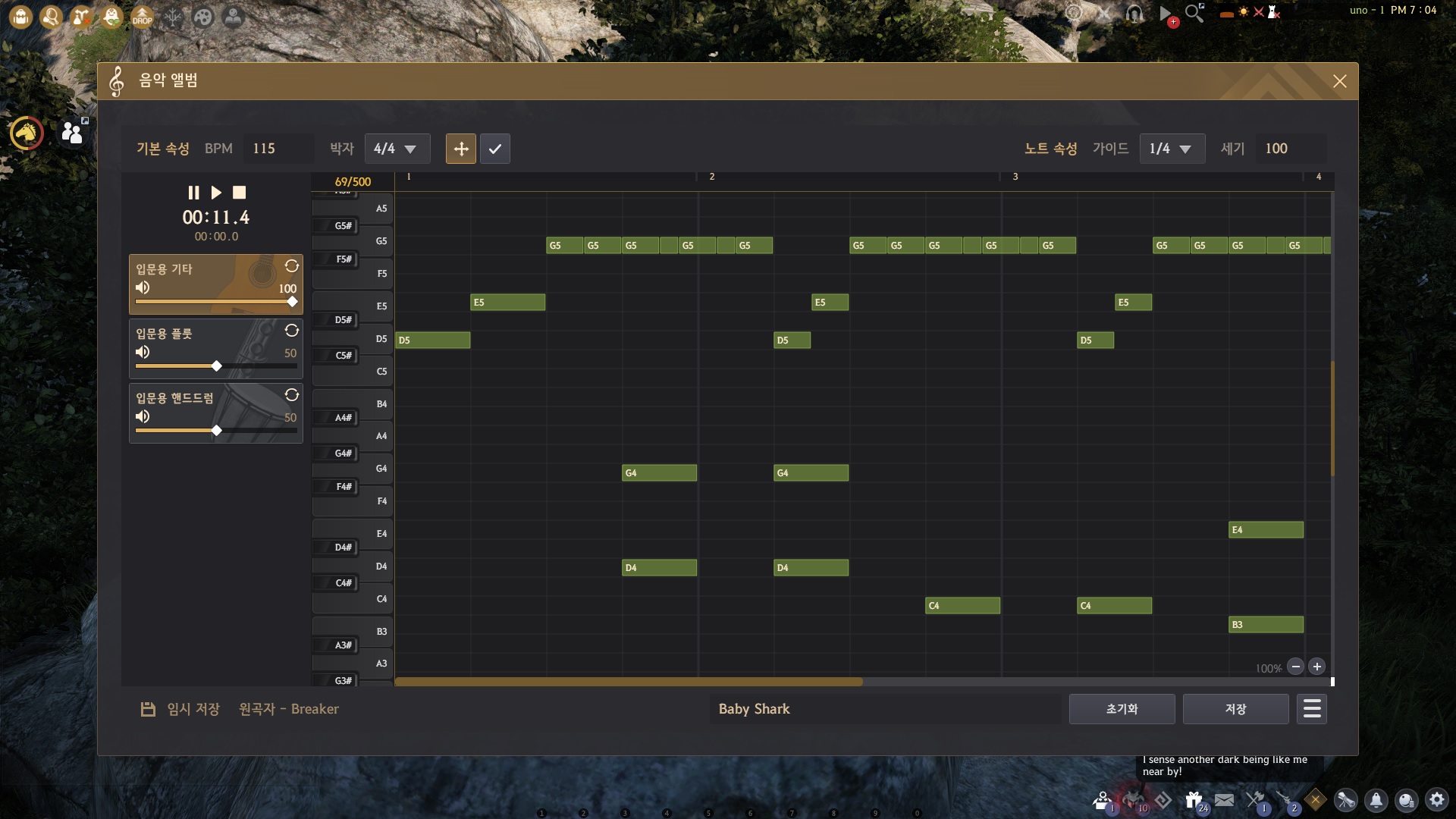 It's just like the above pic, but i won't go into too much details right now but maybe in the future, i guess?
(Shai can also play Metal Songs lmao)
Well, Have a good day out there! Say Hi if you see me in-game or in GL lol. \ (•◡•) /
Check out the next one: Shai Music Collection #2
2020-01-23
# 2
What a lovely render of the song !
Great work!
2020-01-23
Character Name
Qalene
SUPPORTER
Lv61
# 3
This looks great! Can't want for this Shai's music update soon. Maybe I could ask you the Baby Shark's sheet in the future so I can show it to my nephews. Hehe.
2020-01-23
# 4
Thanks! @Qalene.
2020-01-23
# 5
@Rozenelle Sure! just hmu and i'll show you once the update is live.
Maybe there would be a music album where i can upload the song and let anyone who wants to download. Just like beauty album
2020-01-23
# 6
Love it! It's like going back to Guild Wars 2 to play the musical instruments BUT BETTER!
2020-01-23
# 7
Looking forward.
2020-01-23
Character Name
Veonya
SUPPORTER
Lv61
# 9
Can I request metallica cover pls eeeeeeeeeee
2020-01-28
# 10
@Lotys That's all that i could fit in the song but more could fit if there's a second part, and i encountered a bug or something that won't let my shai play it because play button is not clickable and i can't edit it anymore but i can remake it from scratch tho. :<
2020-01-29
# 11
EEEEEEEEK you really did it, thank you
going best post right away
also a sub from me
2020-01-29
# 12
Thanks! @Lotys (づ ̄ ³ ̄)づ
2020-01-29
# 13
i've been waiting for this !!
2020-01-29
# 14
Wow nice2x I would try it out when that update would come out :)
2020-01-29
# 15
Waiting for kaer morhen theme and wolvenstorm
2020-05-14
# 16
Heya, anyone here knows how to open & play the Downloaded Music Files?
2020-05-17