Acquiring Energy For Lifeskills
# 1
Energy is a form of currency in the game. You can exchange or use it for resources in BDO like gathering and farming lifeskill. Energy is more precious than silver, because it's limited and takes time and effort to obtain. Here i will be listing some ways to acquire energy:
Staying Logged In: You get 1 energy every 3 minutes when you are logged in. You only gain energy per hour when logged off.
Beds: You can recover from energy by sleeping in beds,There are two types of beds, ones who buy from cashshop and others you can craft or acquire from questing. You gain 3 energy every 3 minutes when sleeping in a cashshop bed. You gain 2 energy every 3 minutes when using crafted or quest beds.
Energy Potions: Energy Potions are purchased at the Marketplace or acquired by visiting Alustin, the alchemist in various cities. He will have an option called Realization of Energy. This allows you to convert your energy into a potion in a 5 to 1 ratio except extra large potion which converts your energy at a 4 to 1 ratio. This means you give 5 energy and store 1 Energy in the bottle. There are 4 types of potions small, medium, large and extra large. Energy Potion extra large is the best value if you're converting your own energy, because it stores 1 energy and costs 4.
Energy Tonics: Energy Tonics are similar to Energy Potions, except they are purchased via Loyalties or Pearls. You obtain 100 Loyalties each day by logging in game. Pearls are bought with real money. Energy Tonic small which recovers 15 Energy and costs 100 Loyalties is the onle one you can buy with loyalties. With pearls you can buy 3 different types Energy Tonics, small (15 energy), medium(30 energy) and large(50 energy).
Blessing of Kamasylve: Blessing of Kamasylve gives a 1 day to 15 day buff that increases your energy recovering by 2 energy every 3 minutes so you will get 3 energy every 3 minutes while logged in. Blessing of Kamasylve is purchased by via Loyalties or Pearls.
Quests: Energy can also be acquired through some quests but it's a time comsuming method and most of the time you need to spend energy to get energy back.
Villa Buff: Villa Buff gives 1 energy every 3 minutes, the buff is called Turning Gates. It lasts 90 minutes or 180 minutes. 90 minutes costs 3x 1G Gold bars (300,000 Silver) and 180 minutes costs 9x 1G Gold bars (900,000 Silver). Players that have tents, can purchase buffs at their campsite as long as they have a Villa Invitation. Villa Invitations cost 10 million silver and last for 7 days.
By using all these buffs you can recover a maximum of 6 energy every 3 minutes.
2020-03-17
Main Character
Dark Knight
Lv 59
# 2
Don't forget this place if you want to just relax and recover energy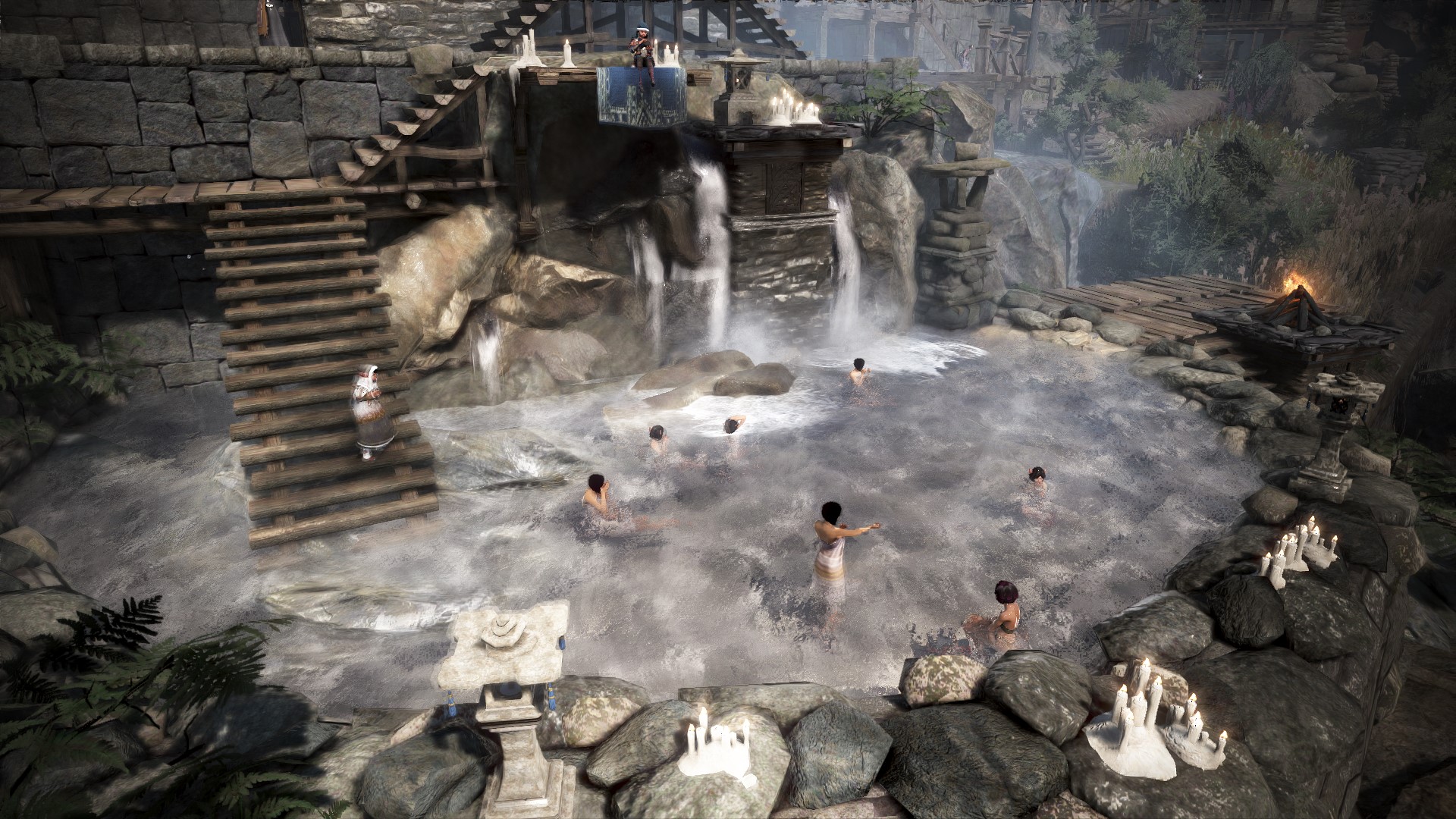 Hot spring in duvencrune gives you energy +1 buff

2020-04-28
Main Character
Dark Knight
Lv 61
Feedback
TopicAcquiring Energy For Lifeskills