General Discussion
OPEN FORUM: Premium Outfit box exclusivity?
# 1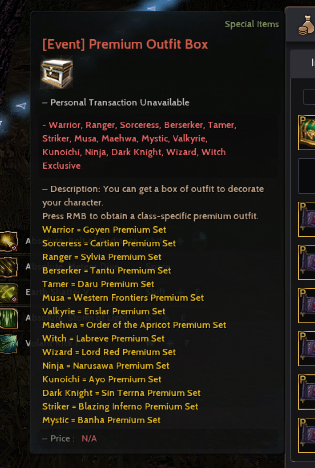 So a friend of mine got the best luck for obtaining a Premium Outfit box from that one RNG box which was worth only a 100M silver during the recent patch update.
The main concern here is about the exclusivity of the said Premium Outfit box which clearly lacks a few items specific for a few classes.
My friend here mains an Archer and by the looks of it Pearl Abyss has still yet to recognize the existence of said class because of how literally exclusive this box is which is a shame to those who actually got it but can't use it. By the list of things, I would understand if the only class being left out from the list of the Premium box's exclusivity is the Guardian considering how recent the Guardian class is released but the other classes like Lahn, Archer and Shai have been away from spotlight for quite awhile now and I think the devs have just stopped caring altogether.
I call upon the Supporters and Devs to please hear this shameless plight of mine. Because this is more than just my friend's cry for a vanity prospect, this is about the game's lack of recognition to a few classes that I know most of you wouldn't bat an eye on. This is a call upon those who are less heard. Is there a way for players to actually be pleased with what they are given instead of just moving on?
2020-03-21
# 2
I will pass a ticket for your concern.
But for shai it doesn't have a premium because shai doesn't have an awakening. As for the others, I don't know yet the reason.
2020-03-21
# 3
Here is the official statement of the Pearl Abyss:
We appreciate your time and effort in sending us this ticket, and in line with this, the reason why there are classes that is still not included in the Premium Costume Boxes is that there is still Costume that is not yet being released. You can always visit our website for more of our upcoming updates including new costumes.
2020-03-22
# 4
@Supporter MeisterBlank
Thank you for your time and effort to this concern of ours! So I told my friend to just wait for future updates and releases, and he really appreciates the good news! 😊❤
2020-03-23