# 1
Hello everyone!
Having looting troubles cos you're new to the game? I have some good news for you!
Today, we're going to tackle on how to get your first line of pets from the questing system.
※ I won't be going in-depth on this guide but I will provide a link for one on the very end of this post!
So, you might have been told by some friends of yours in-game to clear to main quests as fast as you can or until you hit a wall (mainly AP related killing quests) right?
The reasoning behind that is not only to make you progress into the story for beginner gear but also for your pet questline requirments to be met.
● You will find the pet questline on the "Suggested" section.
There are 3 kinds of pets available to this questline:
- Buster (Dog)
- Delphe (Hawk)
- Junaid (Cat)
Each having different traits:
- Buster (Ability to detect Red/Guild War Enemy Players)
- Delphe (Ability to locate Elite/Boss Monsters near you)
- Junaid (Ability to locate Gatherable Resources)
Bartali's Buster:
● Finish the "Balenos Main Questline" then talk to Igor Bartali in Velia.
Kali's Delphe:
● Finish the "Calpheon Main Questline" and talk to Herman Feresio in Calpheon.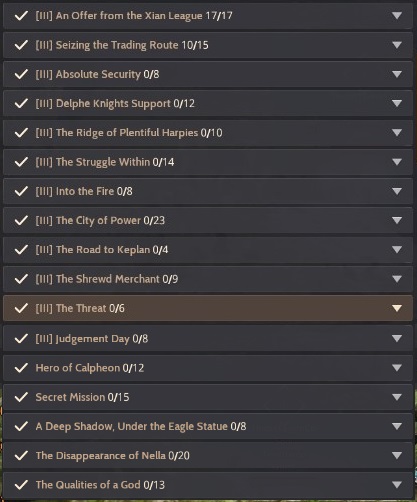 ※ This will be the longest one in the questline requirement-wise
Bareed's Junaid:
● Finish the "Mediah Main Questline" and talk to Bareed's III in Altinova.
For an all around guide for pets with all the technical stuff included, I recommend that you check out this link:
I hope this guide has proven useful to you! If you have any concern's about the topic, feel free to leave a comment and I'll get back to you as soon as I can!
With that said, this is Reikise signing off..
2020-05-06
# 2
Big Cat uwu)b
Gud guide @Reikise!
2020-05-06
Main Character
Dark Knight
Lv 57
Feedback
Topic[NEWBIE TIPS] Free Pets!