Black Desert Imperial Carrack
# 1
Imperial Combatant Carrack
27+2 cannon per side.
Firing 11 cannonball per shot up to 3 time with individual reload time.
30 common sailor and 6 cannon officer.
Some changes been make, more update info above.
2020-09-13
# 2
When a decent Sailboat passing by an Imperial Combatant Carrack.
2020-09-13
# 3
On: 2020-09-13 19:04, By: WarGrace
Imperial Combatant Carrack
Total 66 cannon with 33 at each side.
Firing 11 cannonball per shot up to 3 time with individual reload time.
30 sailor and 6 special sailor each at cannon row, without the special sailor at certain row cannot fire making it 36 sailor in total.
I have swam and got on Carracks like this hehehehe and the sailor was OMG!!!!!!!! Drove me out to sea till I had to Map back to velia hehehe
Lovely post, made me laugh, DivineSavior! Hehehe
have a great weeke ahead!
Toffee of Florin
2020-09-13
# 4
I Love It. This idea will be Great OwO
It will hunt red ships. The Peacekeeper, we need <3
2020-09-14
# 5
That feeling when your trying to go red and there something deadlier next to you.
2020-09-14
# 6
That moment when your dye costume is similar to someone else.
2020-09-14
# 7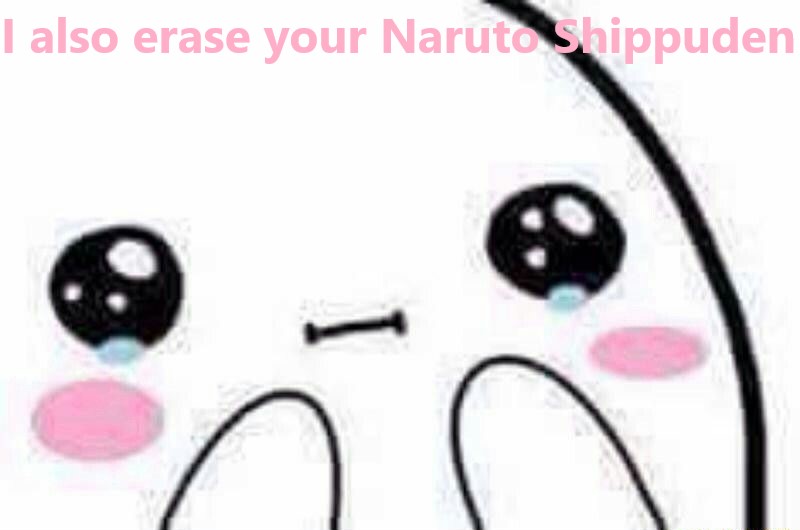 .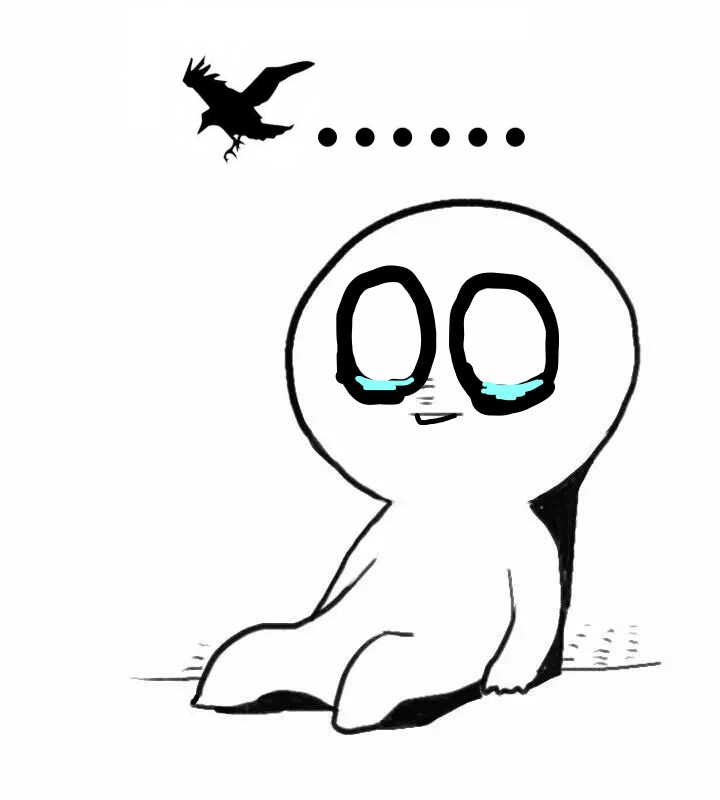 Time Out~! Have a break have a kitkat.
2020-09-14
# 8
Updating:
.
2020-09-25
# 9
How the cannon mechanism work?
Each row of Top 9 cannon + 2 frontal surpressed, Mid 9 cannon +2 frontal and Below 9 cannon +2 frontal total is 33 shots + other side is 66 shots.
Each cannon row need a special Officer that can be hired by player, if the Combatant Carrack with no officer only the frontal cannon firing 2 shots per row.
If Officer get wounded or injure or sick during the progress, the cannon row have no function firing the 9 cannon but 2 frontal remain working.
All 30 common sailor give stat buff such as MSPD,Acceleration,Turn and Brake but if suffer from wounded and injure the stat of that sailor being halt, the sailor will recover during 30sec-60sec and their stat reapply back so there no death sailor occure using Combatant Carrack, player only suffer sailor stat drop and Officer Sailor cannon malfunction.
Each cannon row have it own reload timer/cooldown, any row unable firing the frontal will fire 2 shot, so in short term the frontal cannon can do 6 shots on 3 row with or without the Officer onboard, this mechanism is to provide backup fire if Combatant Carrack havent manage to hire Officer Sailor or the Officer is down.
Example:
Top 9sec reloading-Officer wounded only fire frontal 2 shots
Mid 10sec reloading-Officer onboard firing 9+2 (frontal)=11 shots
Below 11sec reloading-Officer Injure only fire frontal 2 shots
Top2+Mid11+Below2=15 shots on 3 row
All sailor and Officer onboard have no issue facing permanent disable problem(dead), they will recover after 30-60sec depand on your situations.
Officer and Sailor have health bar and conditions, each time the Combatant suffer hit from sea monster or Sea Warfare, their health will reduce depands on damage taken. once a sailor at 0/100 health conditions after 30sec it will regen back to 50/100 injure condition, after full 60sec it will regen to 100/100 at healthy conditions.
The primary issue is durability where most player suffer dismounting their ship to repairing now with Combatant Carrack as long as your ship idle can press a button to start repairing so player didnt have to dismount their ship and only waiting the sailor auto repair the ship durability at idle.
This ship having so much sailor have another benefit, it can replenish ration using sailor health condition by scavenging at sea to replenish some rations.
The cannonball have to replenish at any Imperial Wharf Manager.
This is only some opinion & suggestions.
2020-09-25
# 10
All Imperial Sailor have no leveling issue, their health and stat are permanent, if their health 0 the stat temporary disable and have to wait 30sec to restore 50 health and back to action.
2020-09-25
# 11
Imperial Combatant Officer
An Imperial Officer that serve under the Great Imperial of Calpheon Naval.
Imperial Officer that serve under Great Imperial Calpheon Naval Tactical
2020-09-25
# 12
Unique Imperial Officer For Imperial Combatant Carrack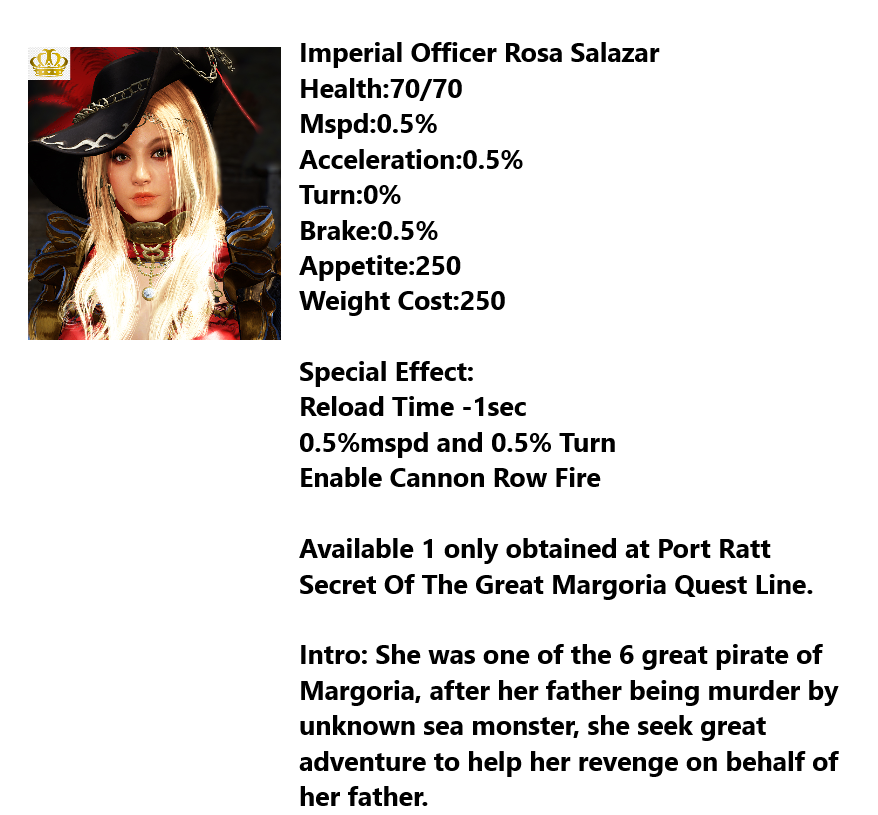 Rosa were daughter of a great pirate of margoria, she live with her mother at Port Ratt. her father Diego Silverfang is one of the 6 great pirate that roam the margoria sea were ambush by unknown creature, the only solution is to fled but the creature were so agile destroying Diego ship and massacre his men to their death.
The few of Diego men escape and drift at sea finally rescue by transport ship returning to Port Ratt and inform the tragic of Diego death, Rosa Salazar Journey begin.
2020-09-26
# 13
Little Bear were abandoned at the woods by his giant family because he was a weird child, one day grandma were out at the woods to collect berries and found Little bear hiding behind the bush while eating the berries, that time he was so tiny not like other giant child that were big and strong.
so grandma toke him in and raise this child, little bear were kind and talent yet having great fishing and harpoon ability at sea. day pass by they were happy, but thing aint last, grandma were sick and fallen ill, her final request were hoping Little Bear find his destiny.
2020-09-26
# 14
Afuara the Goby is a very talent engineer especially ship, he was little brother to Afuaru,Wait What~!? what the fok is this~!? yea he is little brother to the Great Robber Afuaru that roaming at Valencia seeking wealth.
This 2 brother were once the greatest thief of valencia but somehow Afuaru left and seek his most desire treasure at desert while being left alone, Afuara use his talent on engineering fixing all illegal thingy provided by various treasure hunter around the Valencia. He willing to join if you help Afuara find Afuaru, some reason old score have to be settle between this Goby Family.
2020-09-26
# 15
9th Princess Of Kamasylvia Kingdom of The Elf, she lovely, kind, generous, pretty, and honorable. somehow she cant stop what were going on at Papua Crinea where Otter and Papu been fighting over 1000year and she still havent manage to find the solutions of this 2 race.
Anabella spend her entire life trying to solve the conflict between Otter and Papu over thousand year, now the time has come to help her out and find the riddle that been missing all this year. This is a complicated task where otter and papu have their religious language, even Anabella having trouble understanding their language, hope you can understand what they saying. Queek and Bruuh~!
2020-09-26
# 16
Laila Pella Lisa is one of the 6 pirate of margoria, her father Santino Alberto have deep grudge with Diego Silverfang father to Rosa Salazar. Rumor say that Diego is responsible chopping off Santino left hand to remind him that the sea have it rules after being caught by Diego knowing Santino plundering a cargo ship with the cause of 340 life loses at sea.
After that incident, Santino vow to take revenge on Diego Silverfang but destiny not in his favor after 4year Santino pass away due to harsh battle with Valencia naval, he is badly wounded with multiple shots and his title and position mandatory pass down to his only daughter after his last breath.
2020-09-28
# 17
Another Dissapointment from Pearl Abyss.
2020-10-01
# 18
Time To Dye!
Subs: 日本
2020-10-06
# 19
Anyone Else?
.
2020-10-06
# 20
OwO)/ can i join?

Combat :
Instead called Imperial Carrack I prefer Called, Calpheon 1nd Rate and has owned by Guild / Clan with 10 (5-5) Player control cannon

and the downgrade of that ship is Calpheon 2nd Rate and 3rd Rate has lower than 1st rate owned by Player with 4 Frontal cannon and 2 cannon for who player can control it and 2 again for captain only , and 2 back cannon captain only

And Has Special upgrade you must buy or get or craft Double Cannon Upgrade :) for Fast Speed Reload Cannon and Double Damage, or Improved Hull (add envasion and more HP and DP to ship?)


Trade :
is Treasure Ship (galleon) owned by Guild and add Barter Mission for Guild to run, like supply the Port Ratt with Weaponary or just something It is has 44 cannon or demi Falconet and can carry Special Upgrade cannon it is Mortar Cannon for Node War More AOE more Range And More DMG AOE but the ship have slow mobility when this Mortar equiped

And For personal trade ship is Galleon and Heavy Carrack with a good amount of Slot and Weight Limit, have sturdy hull but not too tough like combat, but minus the speed ecexpt you add Improved Sail (gold tier item)

and for special upgrade is Additional Sail (+speed and Accel and turn) and Additional Storage (+ weight limit and add 10 more iventroy slot and 20 Sailor caps)


2020-10-14
# 21
and need to change OWO)/ Epheria Frigate ,Caravel, and Galleas Model to add more variation
Caravel more like this

and Epheria Galleas More like

Epheria Frigate more like this

2020-10-14
# 22
Liamenor, Sure hop along and share some idea that been wandering at your mind when playing Black Desert, everyone can share their funny or idea of their mind here just to pass time during Covid.
2020-10-19
# 23
On: 2020-10-14 18:49, By: Liamenor
and need to change OWO)/ Epheria Frigate ,Caravel, and Galleas Model to add more variation
Caravel more like this

and Epheria Galleas More like

Epheria Frigate more like this


Thanks :3 WarGrace, and maybe Epheria Frigate has 3 Sails at 2nd mast and 2 sails at 1st mast but please add side cannon (captain cannon) at 1st form (standard Epheria Frigate) 2 captain cannon, then Galleas has 4 captain cannon :3 and you know the rest
2020-10-22
Feedback
TopicBlack Desert Imperial Carrack