Tips & Guides
BEST
#Monsters
#NoviceAdventurers
#Tips&Guides
#Recommendations
#Other
Chill Money Making - World Boss
# 1
Now people might say, that killing World Bosses is not chill. It is if you don't have a lot of time in your day and only have a few mins to spare. There are only a few ways I make silver from World Bosses, and no it is not from the amount of silver they drop.
Below I discuss those ways and how I made it easier for me to do them. But before we get into it, you need to be familiar with the World Boss schedule, and choose which World Boss to kill that fits you, or do them all if you will. You can also turn on the World Boss notification on your Black Desert + App.
YOU WILL NEED
World Boss Schedule

For this guide, we are using the old menu. Follow the steps below to set the world boss notification and access the world boss schedule:

1. Click BOSS NOTIFICATION
2. SET NOTIFICATION AND/OR VIEW SCHEDULE
3. WORLD BOSS SCHEDULE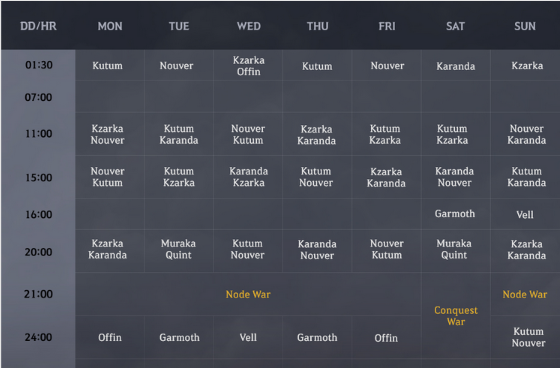 You also have the option to set the notification on your Black Desert + App.
Once this is done, choose your world boss and defeat it. Most of these world bosses are hack and slash, but a few of them have some surprises up their sleeves if it's your first time (Vel, Offin, etc). My tip, just always watch the WARNING on your screen. It's a flashing warning on the centre of your screen that would tell you what the boss is about to do and what you should do.
So How Did I Make Silver?
1. Collect the World Boss Aura

Most World Bosses drop an Aura, except for Vell and Garmoth. You can collect 100 pieces of these and exchange them for a Boss Main/Awaken/Sub Weapon. So let's say I'm super busy (or lazy) and decide to just do 1 Kzarka per day. In 100 days, I will have 100 of his Aura which I can exchange for a clean Boss Main weapon (Kzarka's ________). This is similar to other World Bosses, imagine if you would do at least 2 World Bosses per day OR you get lucky and get...
2. Weapon Box

If RNG is in your favor, then instead of just getting the Aura, you will also get the Weapon Box, so no need to wait for 100 days, assuming you only do 1 boss per day. But as this is RNG it is best to think of this as a bonus, something good to have if it drops, but not something you would hope for every time. Also note, the the weapon box will award a main weapon depending on the class that opens it.
3. Vel and Garmoth

These 2 do not drop an Aura, so the 100 day wait technique does not apply. Instead they drop Vel's Concentrated Magic and Garmoth's Heart. It's either you get lucky and get these, which sells for billions of silver, or you get nothing. These drops can be sold as is, or made into Vel's Heart and Inverted Garmoth's Heart, respectively for an additonal billion silver, or two.
If you're an RNG Box junkie, you can do what I'm currently doing with Vel's Bundle. Collect and open after a certain number, I'm personally waiting to get 100 bundles before I open them.
TIP: You can make alt characters, and equip them with Oasis gear (until it is available) and place them on World Boss locations. Easier to log off and on from your main to the alt character.
So there you have it, that's how I make money by doing World Bosses. Share your comments and additions below.
This is part of the Chill Money Making in 2020 series which is updated weekly.
Check it out and see other ways to make money in the coming weeks.




2020-09-19
# 2
First! Go go Aura! Such a helpful tips as always!
2020-09-19
Main Character
Dark Knight
Lv 61
# 3
always my idol when it comes to guides! BEST support of the year!!!!
2020-09-19
# 4
10 vell's heart incoming
2020-09-19
# 5
Well, i don't use weapon box for money making. It's too much RNG. And I only use latent aura to be exchanged for memory fragment since I already finished the 100 latent aura quest. World bosses also drop gold bars and crystals. That's my little money making from fighting them. And for more RNG, world bosses also drop accessory bag called "Belongings of the Adventurer".
2020-09-19
# 6
Ez cash by mindlessly hitting bosses
2020-09-19
# 7
On: 2020-09-19 13:24, By: Rosylle
First! Go go Aura! Such a helpful tips as always!
Thanks Rosy, this is the 2nd to the last in this series.
2020-09-19
# 8
Hudori drops these as well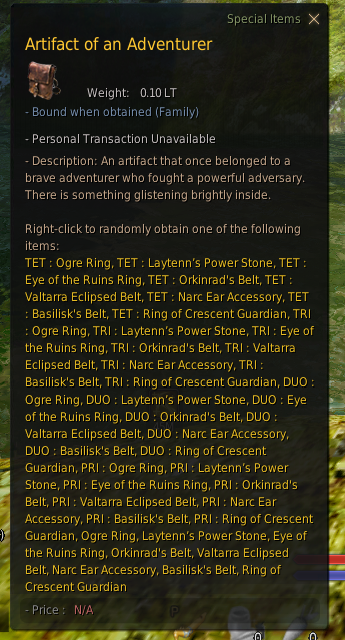 2020-09-19
# 9
On: 2020-09-19 19:39, By: Veonya
Hudori drops these as well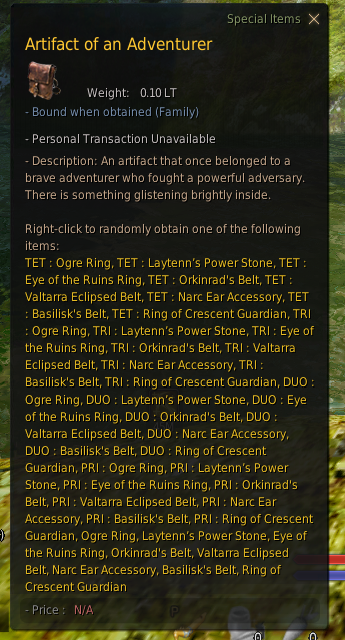 no bag for you, toffee.... forever.. mwahahaha
2020-09-19
# 10
Silverian drops them regularly, Hudori.
2020-09-19
# 11
Has anyone gotten that bag? I think I got something similar from Kzarka before, not sure of the exact item name.
Thank you all for your input!
2020-09-20
# 12
100 bundle seems interesting, i should start off by wed
2020-09-20
# 13
On: 2020-09-20 18:02, By: Sealed
100 bundle seems interesting, i should start off by wed
it is. I am tempted almost everytime I get the bundle to just open it, but the more you have and the longer it takes, the more you want to wait some more. You get the feeling that you don't want to waste the time you've already invested in waiting and want to see it through to the end.
It's actually faster now because when I started this, Vel was only available once a week. If all goes well I'll have 100 bundles by June of next year.
The suspense is killing me...
2020-09-21
# 14
Adventurer's bag? Yeap gotem before.
Got base accessories.

If you remember SilentSiren back in Revenant, he got two TET Crescents.

If rng is your thing, maybe do some boss runs here and there.
Plus there's always these events with shiny rings every other month
2020-10-03
# 15
I've placed characters on almost all the bosses except Vel, although most times I feel lazy to do them.
2021-02-02
Feedback
TopicChill Money Making - World Boss