#Items
#NoviceAdventurers
#Tips&Guides
#Recommendations
#Other
My Top 10 Pearl Shop Items in 2020
# 1
Edit Date : 2021-06-08
Black Desert can be played with 0 real money spent. Most pearl shop items are for conveniences and cosmetics, which lately, you can get from events, daily attendance, and Quest progression, like Pets and Outfits to name a few.

However, sometimes there's a specific convenience and cosmetic item that the game won't give out for free, and if you decide that you really want to spend real money, below I list my favorite Pearl Shop items that has been useful to me in 2020, and hopefully to you, in the years to come.
1. Naphart Campsite

Commonly known as the "Pay to Win" tent, the most expensive item I ever bought, which honestly took me a while to get. Firstly, I had to save up for it, I wanted to make sure I really really need and want it before I bought it. I also waited for the Black Friday sale week last November where they gave out discount coupons which you can stack with the already discounted items. I spent a total of 600++ Pearls to get this, which is more than 50% off than the original price.

Features:
Repair anywhere without going to town/city.
Buy Potions/consumables on the spot.
Mini storage box
Usable by ALL members of the family.

PEARL SHOP TAB: Travel Aid
2. Golden Hedhehog

There is no difference between this and the regular hedgehog other than the color. As a Lifeskiller, this has to be the best pet purchase I ever made. A limited pet, I am not sure if they will offer it for sale on it's own, when I got mine it came in a package with other items. Other than the normal pet skill of picking up loot, the Golden Hedgehog increases the materials collected via gathering. I also got lucky to get a Gathering +1 and Gathering Exp increase skill and the Lifeskill Exp increase.

Pets in general is one of the best items you can get from the Pearl Shop, however the features of the Golden Hedgehog is more useful for me. It can be upgraded to a higher tier using the Wizard Gosphy Pet.

PEARL SHOP TAB: Pets
3. Premium Outfits

Costumes or any cosmetics fall under the "luxury" category in the sense that they don't really give out a significant game advantage, other than to make you look nice. I personally do not think twice when buying outfits but among these outfits, if I had to pick one, it has to be the Premium Outfit Set.

Premium outfits give you 7/8 of the total required to get the max outfit effect, with underwear completing the set.

So if you're only going to buy one outfit, or your first of many, I would recommend to get at least 1 Premium Outfit.

PEARL SHOP TAB: Apparel
4. Canape Clothes

A costume that is both a functional costume and an outfit, that didn't make sense. Basically, If you go to the Apparel tab in the Pearl Shop, it has 4 sub categories, Outfits, Costumes, Underwear and Accessories. Outfits give you the outfit set effect mentioned above, while Costumes are the Functional Costumes that is mostly used for Lifeskill, and Swimming. The Canape Clothes is a functional costume, however it fulfills the Outfit set effect.

The main purpose of the Canape Clothes is to increase Cooking Exp by 15% and reduce cooking time by 2 secs, but if you're only going to buy 1 outfit (2 in this case after a Premium Outfit), the Canape Clothes is a must.

PEARL SHOP TAB: Apparel
5. Coco Clothes

I promise this is not all outfits, but Coco Clothes, like the Canape is another multi-purpose outfit. First it counts towards the Outfit set effect, second, it gives the Summer Season Exclusive effect (3 parts) of +42% Swim Speed. The other Swimming costumes (Shark and Coi), are functional costumes, which again does not count towards the Outfit Set effect. The Coco Clothes is also the 2nd fastest swim attire, first being the Shark Costume.

This however is a limited outfit and is normally available during Summer events or Sale events, and either comes with 3 pairs of swimsuit (to replace underwear), or 1 pair. Also, unlike the underwear, you can wear the swimsuit in Safezones, and underwater.

PEARL SHOP TAB: Apparel
6. Jojo Pet

Before the end of 2020, I pledged that I will stop buying cosmetic pets, although I did purchase those pets that grew in size when upraded as a last purchase. Pets in general is to pick up your loot, and for mini bonuses in Lifeskill and Combat, etc. One of the best function pets is the Jojo (bird?).

If the Golden Hedghog is the best pet for me for my Lifeskilling, the Jojo Pet has to be the best for grinding. This pet has twice the loot pick up range of all other pets, and would pick up the furthest loot first, so your other pets can pick up the ones nearer to you.

A very limited Pet, I'm pretty sure it was only available 2x in the last 12 months and for a very limited time (1 maintenance cycle). It can also be upgraded with the Wizard Gosphy.

PEARL SHOP TAB: Pets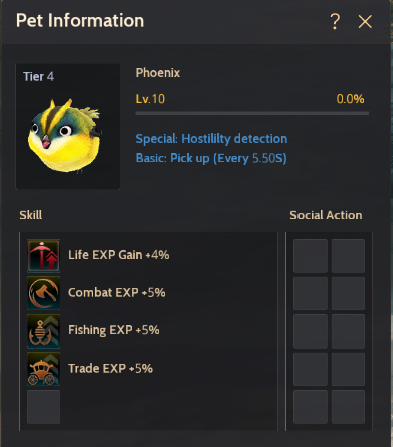 7. Carmadun Owl

As the Jojo pet is rare, the next best thing you can get to achieve an almost similar effect is the Carmadun Owl. A Premium pet that is available all year round, gives the same effects as other bird pets but similar to the Jojo, the Carmadun picks up loot at a greater range than most pets.

Also, as it is premium pet, it is cheaper to upgrade. You can get the same pet or similar family (bird), rather than spending 300 Pearls for the Wizard Gosphy.

PEARL SHOP TAB: Pets
8. Weight Increase

A must for mass Lifekilling, weight increase is not just for long hours of grinding, it's also very usefull when cooking in bulk, mass processing, and carrying trade items.

PEARL SHOP TAB: Function
9. Inventory Increase

Similar to weight increase, I find that this is a best buy for long hours of AFK Fishing. It's also beneficial when grinding.

NOTE: Max allowed Inventory space is 192. So do not buy further if you will go over that.

PEARL SHOP TAB: Function
10. Furniture

The least useful for me in this list but also the most cosmetic. I make sure to only purchase furniture during sales. This makes sure that even if I do not get Rank 1 house, my residence looks like an actual home rather than a warehouse.

Also just last 2020, 2 furniture sets were given out for free, and during the holidays a fireplace decor. SO maybe if you missed that, and wait long enough, they might give out some more, if you can't wait, the Pearl Shop is waiting.

PEARL SHOP TAB: Interior
Access the Pearl Shop by pressing F3, or clicking the icon in the menu.
# 2
Edit Date : 2021-01-31
Thanks for sharing :)
# 3
Edit Date : 2021-01-31
+1 heart
nice tips :)
# 4
Edit Date : 2021-01-31
hmmm although you can buy 250LT weight one time with Loyalty and can get 5 pets with quests, this is a nice shout out if they really want to pay for more convenience (y)
Main Character
Dark Knight
Lv 62
# 5
Edit Date : 2021-02-01
Thanks all. Also, just when I logged on today, I can see that we got a 20% Off Discount coupon. This will expire on Feb 8, so what are we waiting for? It's time for shopping!
# 6
Edit Date : 2021-03-15
Thanks for sharing !!!
# 7
Edit Date : 2021-06-08
You're welcome Atras. Hope you found this helpful.
# 8
Edit Date : 2021-06-08
Just lost my heidel 9-4 residence to a Sultan. XD
# 9
Edit Date : 2021-06-08
On: 2021-06-08 14:59, By: LionessSpark
Just lost my heidel 9-4 residence to a Sultan. XD
37 Minutes ago
It's a sad day for free to play houses. You can always get another one? Lately I noticed not a lot of people are updating their houses, me being 1 of them.
Feedback
TopicMy Top 10 Pearl Shop Items in 2020