#NoviceAdventurers
#Tips&Guides
#Recommendations
#Other
Season Server: New Player Level-Up Tips
# 1
Edit Date : 2021-07-17
One of the most important factors in BDO is Character Level, this goes up by 1 point each time your Combat Exp points gauge reaches 100%. Reaching certain levels gives you rewards, for example reaching level 58 to 61 gives you 1 piece Capotia accessory, 1 ring, 1 earring, 1 belt and 1 necklace.
With the new Summer season release, along with the new class Corsair, these rewards are multiplied. Other than the regular level up rewards mentioned above, you also get Season Character level up rewards, which included PEN Tuvala Ring and Earring when you reach levels 60 and 61, respectively, Corsair level up rewards, and not to mention reaching level 61 is a requirement for completing the Season Pass, which also rewards you with the Frozen Tides Black Stone (Guaranteed TET to PEN enhancement of Tuvala gear, except accessories).
Lastly, the recently concluded FREE BDO Account event requires 1 character on a 30 day free trial account to reach level 50 before the end fo the 30 day period, as long as you registered within the event period (ended last Jul 14, 2021).
With all of these benefits, I hope whoever is reading this does need more convincing why the minimum required level to reach now is 61. Below I share some personal tips to level up faster, or at most not exceeding 30 days.
NOTE: This is from the perspective of a NEW PLAYER. Veteran players have their own trick, which is not recommended if you're new to Black Desert Online.
1. Complete All Main Quests

The slowest way to level up, albeit the most tried and tested. If this is your first time playing BDO ever, you should at least complete all the Main Quests once. Other than character level, you gain a lot more from doing the main quests, like quest gear, remember other than Naru and Tuvala, Season characters can only wear quest reward gear. The main quest line also takes you throughout the Black Desert world, so it will give you direction and a chance to enjoy the story and lore (if you're in to that), or you also have the option to skim through quests dialogue.

You also gain Knowledge (press H ingame) which is required for more Energy, needed for performing Gathering Lifeskill, completing some quests, and discovering locations from NPCs, etc. But other than this ingame Knowledge, you gain actual knowledge of your class and BDO. Sometimes certain parts of the game will trigger you to google for answers, but for most parts, you will learn through experience.
2. AFK Dummy Training

As a new player, completing the Main Quest at least once is a must. However, sometimes, real life needs us to be present and thus BDO have to take the back seat. But even if you have a busy irl schedule, it doesn't mean that you can totally postpone leveling up in Black Desert. This is where AFK Dummy Training comes in.

First thing you need to do, is click the magnifying glass icon beside your mini map on theupper right hand corner of the screen. Then type Jamey, this will find the different location of Jamey Drucker, the Black Spirit Training NPC, generally in major cities. Go to the 1 you prefer, buy a Book of Training - Combat and Book of Training - Skill, both comes in 1, 3, 5 and 10 hour variants. Once you have the item (Combat and Skill Book stacks), interact with the Dummy, and your character will automatically attack this earning you combat and skill experience, until you reach 99% or you run out of time, whicever comes first.

Once you reach 99%, you won't earny any combat and skill exp, so you need to either do a quest or kill a monster just to gain that last 1%, then you can go back to AFK Dummy Training. Personally, I would do these in between completing the Main quests during workdays.
3. Side Quests with Chenga Tome

Once you reach level 60 (others start it at level 59), you can start doing Side Quests from Brelin Farm, after getting the Chenga - Sherekan Tome of Wisdom. This item will replace the Adventurer's Tome give to you by the Black Spirit at the very start of the game. This items gives +30% more Combat Exp when gained through quest reward (side quests).
I followed videos from EvilDoUsHarm in YouTube on how to get the Chenga Tome and how to use it to level from 60 to 61.
4. Use All Combat Exp Buffs and Pets

Here is a list of all the Combat Exp buffs I use during leveling, if I can stack them I do, if not I just pop the ones that I can at the moment. Also, some pets give some combat exp. It's not much but when you're leveling, you need to pull all the stops and an additional 10% won't hurt.

Bought from Oasis NPC, beside Fughar, near stables.
Event Rewards (Pre-creation, etc), 530% doesn't stack with the 300% scroll.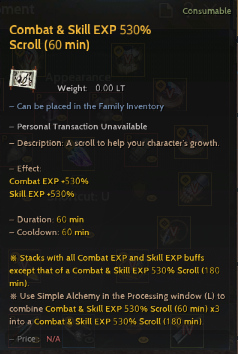 Daily Reward, claim in Y. Simple Alchemy 3 Blue Level 60 min scroll (200% Combat Exp).
Buff from pets. Check pearl shop, but can get free from quests and events.
5. Power Leveling

After doing all of the above, you will definitely be level 61. However, if you really need to be 50 NOW for the Free Trial/Permanent Account event, or if the deadline for reaching level 61 for the Season pass is tomorrow, there is one other thing you can do. The favorite trick amongst veteran players leveling alt characters, either for events, or completion, the last but not the least Boosting or Power Leveling.

Boosting put simply is partying with a veteran player, and letting them kill monsters in a high level area. As a low level character, you fill your Combat Exp gauge faster, multiplied even more with your Combat Exp buffs. This is the fastest way to level up, if you are purely after levels disregarding any rewards or knowledge earned, you can reach level 59 to 60 within hours, then do the Chenga Tome Side quests to 61. If you are a new player and yet to learn the ins and outs of BDO, it is not recommended but you can still do it, especially if there is a need (event ending, etc).
# 2
Edit Date : 2021-07-17
Comment your thoughts and additions below. Thank you in advance, and hope this was helpful.
# 3
Edit Date : 2021-07-17
The queen has spoken! What a great guide for new adventurers! Thanks Aura!
# 4
Edit Date : 2021-07-17
On: 2021-07-17 18:16, By: Senxui
The queen has spoken! What a great guide for new adventurers! Thanks Aura!
You're welcome Aegonn. If you know any more new players (as I personally know you are one), share please. It is not perfect, but this is how I normally levelup. You can add to it as well when you can.
# 5
Edit Date : 2021-07-17
Thank you for tips miss.
# 6
Edit Date : 2021-07-17
On: 2021-07-17 19:32, By: TinaCohenChang
You're welcome Tina. Thanks too for sharing with your friends.
# 7
Edit Date : 2021-07-17
Big thanks as always Aura :)
# 8
Edit Date : 2021-07-17
Great Guide. I'll probably send newbies here so they would have insight about what can help to their Combat and Skill exp.
P.S
Ook Ook~



# 9
Edit Date : 2021-07-17
On: 2021-07-17 20:10, By: Azurelis
Big thanks as always Aura :)
You're welcome Azurelis. Thanks too for always pluggin on your channel.
# 10
Edit Date : 2021-07-18
On: 2021-07-17 21:21, By: PyroMonkey
Great Guide. I'll probably send newbies here so they would have insight about what can help to their Combat and Skill exp.
P.S
Ook Ook~



Thank you Linx for sharing.
# 11
Edit Date : 2021-07-18
Maramingsalamuch.
# 12
Edit Date : 2021-07-18
You're welcome friend.
# 13
Edit Date : 2021-07-19
:D thanks Aura
Main Character
Dark Knight
Lv 62
# 14
Edit Date : 2021-07-19
On: 2021-07-19 00:43, By: Rosylle
You're welcome Irza, and thanks to you too!
Feedback
TopicSeason Server: New Player Level-Up Tips