#Event
#NoviceAdventurers
#Tips&Guides
#Recommendations
#Other
Terrmian Last Minute Shopping Guide
# 1
Edit Date : 2021-08-14
There's only 5 days left for the Terrmian Night Market and when it goes, it's not just the dailies that will go with it, but the Terrmian Night shopping as well. So before it all goes away, even if you're only starting the event now and won't have collected enough daily rewards to exchange for the house decor or swimsuit, you can at least maximize the 5 days to do some shopping.
Below is my shopping list per vendor in the Terrmian Night Market.
1. Esella
I personally didn't buy all of her offerings, but I made sure to get the Memory Fragments, Caphras Stones, Black Spirit Dice and Yellow Label Advice of Valks box. Think about it, it's rare for them to sell Caphras and Mem Frags with silver, this is one of those rare moments.
The very first vendor on the right most row of kiosks, she sells the below items: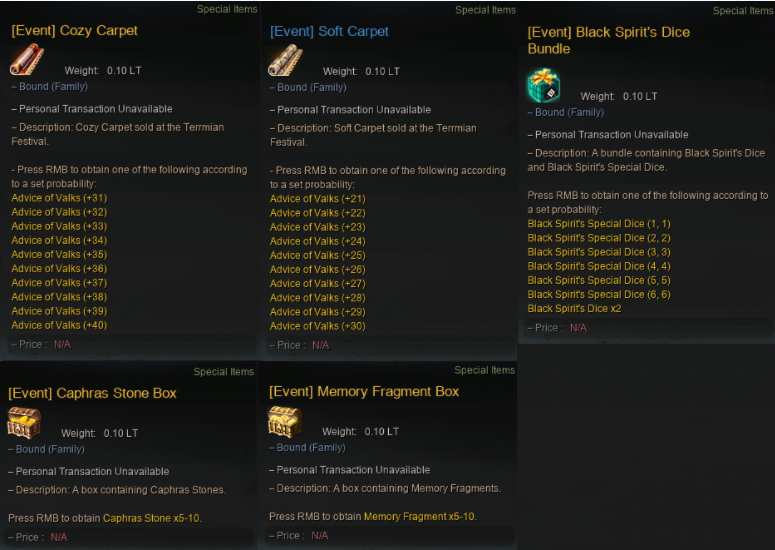 2. Verda
Just accross Esella is Verda. He is my favorite Terrmian Night Market vendor. He sells Magical level draughts that can be used even after the event ends, and as they are Magical level, lasts 60 minutes compared to the regular 15 minute durations. You can also buy the Pineapple, Sugar and [Event] Terrmian Spirits items from him, required to make Terrmain Sunrise.
3. Uras
The 3rd vendor on my list, just down the same line of kiosks where Esella is, Uras sells food buffs that stack with other food book, like Simple Cron Meal, but does not stack with the other foods items sold by Uras. I only got them a couple of times to do the Daily PEN accessory quest, but mostly skipped this part as any unused food buff from Uras will be deleted after the event ends, bummer.
4. Daniel
The next food vendor on my list, attached to the kiosk in front of Uras, is Daniel, so if there are other vendors I never bought anything from them. From Daniel I only bought the Pinchos daily for Lifeskill Mastery and Lifeskill Exp. A few times I bought the Paella. You can also buy Lara's Quest item [Event] Yogurt.
5. Giorio
The last vendor on my list, and the only souvenir vendor in the Terrmian Night Market. Giorio doesn't accept silver. Instead, you need to exchange [Event] Terrmian Coral Coin or [Event] Ocean Blue Orb, for souvenirs. These currencies are obtained by completing the daily event quests in Terrmian.
So those are the Terrmian Night Market vendors I visited during my daily shopping spree, if you start now, you'd at least be able to experience them for yourself until the event ends on August 18, 2021 before maintenace. See you all there, or not.
NOTE: Check details of each food buff items sold by Uras and Daniel as some of them do not stack with each other. Daily items reset at 00:00 GM+8. and Weekly reset every Mondaty
at 12 midnight
# 2
Edit Date : 2021-08-16
Thank you for the guide Miss.
# 3
Edit Date : 2021-08-16
On: 2021-08-16 10:50, By: TinaCohenChang
Thank you for the guide Miss.
You're welcome Ms Tina.
# 4
Edit Date : 2021-08-16
thanks for the shopping guide.
# 5
Edit Date : 2021-08-16
On: 2021-08-16 16:57, By: SerenaVanderbilt
thanks for the shopping guide.
Welcome!
Feedback
TopicTerrmian Last Minute Shopping Guide