#Lifeskill
#NoviceAdventurers
#Tips&Guides
COOKING GUIDE FOR BEGINNERS
# 1
Edit Date : 2021-08-28
HELLO AND WELCOME.
In this guide , I will be sharing the basic knowledge of what cooking is about.
Cooking in BDO is similar to cooking in real life, where we use different resources like vegetables , fruits , meat , grains etc to make a recipe.
Excluding the actual resources like meat , grain etc., there are 2 essential things you need to start Cooking in BDO.
1. Residence
2. Cooking Utensil.
A residence can be purchased using Contribution Points in any town or city.
By opening your map (M), you can use the search bar after clicking on any town to search for a residence.
After purchasing your residence , the following icon will be visible on the left top corner of your screen.
By Clicking on the location icon , you can set auto-path to you residence.
COOKING UTENSILS - There are different types of cooking utensils varrying in their stats like durability and cooking speed.
The base cooking speed is 10 seconds. Which means whatever you are trying to cook will take you 10 seconds to make it.
This time can be reduced by multiple things like Food buffs , Cooking utensils , Gear , Pearl shop costume , Alchemy stone and Draught.
The lowest cooking speed you can achieve is 1 second.
I will provide the list of things you need to get 1 second cooking at the end of the guide.
Coming back to Utensils, They have different cooking speeds and durability depending on what type of utensil you use. (1 craft = 1 durability)

Most cooking utensils can be crafted at a workshop in any town.
You can look for Workshops in the same way as u can search for a Residence as shown earlier.
Following is the list of Utensils.
COOKING UTENSIL

COOKING TIME

DURABILITY

MATERIALS REQUIRED FOR CRAFTING

Cooking Utensil

100

Can be purchased directly from cooking vendor for 1000 Silver. No additional materials required.

Balenons Traditional Cooking Utensil

+5 SECONDS

500

Can be purchased directly from cooking vendor for 50000 Silver. No additional materials required.

Serendia Tradional Cooking Utensil

+6 SECONDS

1250

15 – Rough Stone
20 – Log
15 – Melted Iron Shard
15 – Black Stone Powder

Calpheon Traditonal Cooking Utensil

+7 SECONDS

2000

15 – Polished Stone
8 – Maple Plywood
30 – Melted Iron Shard
30 – Black Stone Powder

Intermediate Cooking Utensil

500

25 – Rough Stone
10 – Log
15 – Melted Iron Shard
7 – Black Stone Powder

Advanced Cooking Utensil

-1 Second

500

20 – Polished Stone




5 – Usable Scantling




20 – Melted Iron Shard




14 – Black Stone Powder

Supreme Cooking Utensil

-1

5000

Can be exchanged for-

40 - Resplendant Medal of Honor
500 - Golden Seal – [Imperial Cuisine]
15 -Dark Spirit's Greed

(Need only one type of item)
(Information about materials required can be accessed via Crafting Notes (F2)).
After you have a cooking utensil in your inventory , go to your residence and press (Place Mode) that will appear on top of your screen , you can place your utensil throught this menu.
Once you place your utensil , its ready to be used.
All the materials necessary for cooking a recipe are required to be in your inventory.
Interacting with the Utensil will pop up this UI.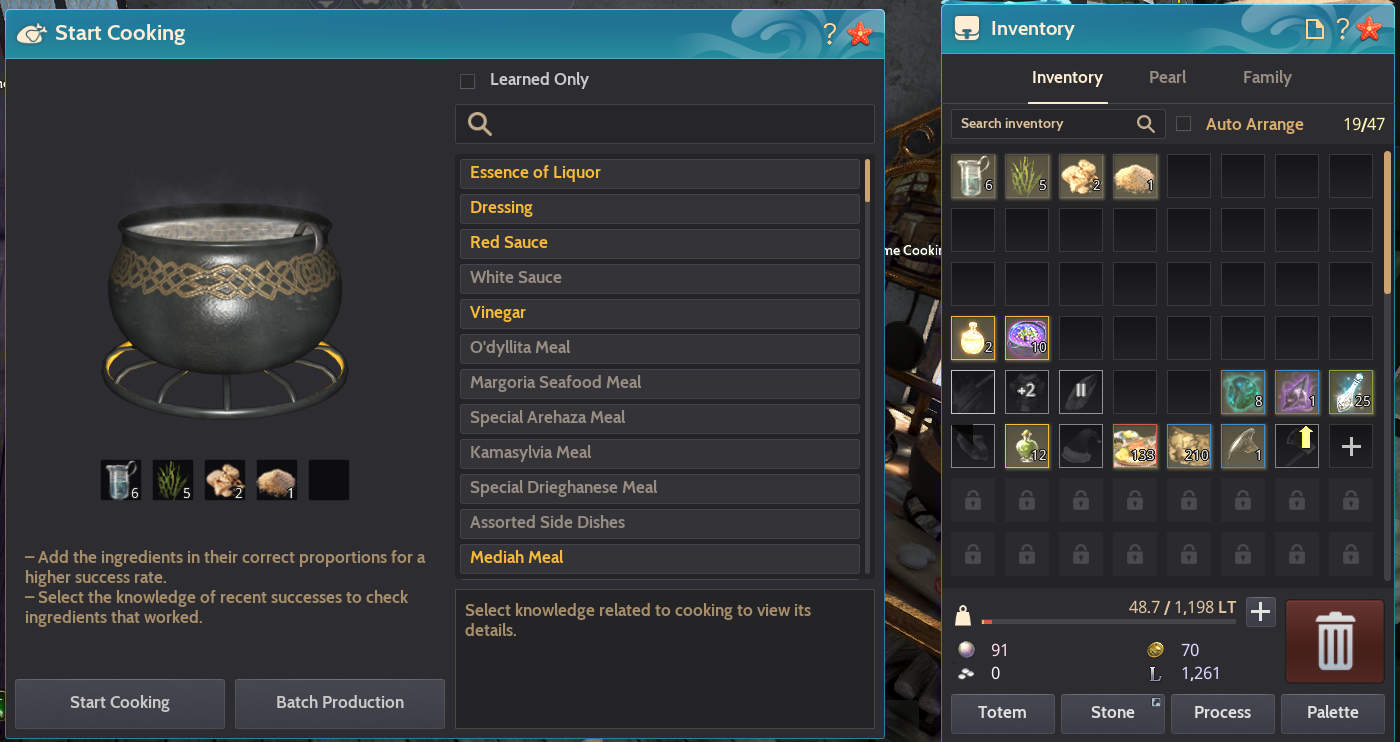 Right click on the materials in your inventory to add them to the utensil then press Start Cooking.
Start Cooking will only cook 1 batch , in order to cook multiple batches , you need to have enough amount of materials in your inventory and click Batch production.
NOTE: YOU SHOULD ONLY PUT THE NUMBER OF MATERIALS NEEDED FOR 1 BATCH , DO NOT PUT THE SUM OF ALL THE BATCHES YOU ARE GOING TO COOK , ANY MORE INGREDIANTS ADDED WILL BE CONSUMED IN A SINGLE BATCH.
Any Cooking recipe can be viewed in the Crafting Notes Tab (F2).
Every recipe needs a specific level on Cooking Lifeskill , Read the description of the recipe before you start cooking.
Many recipes have ingrediants that can be substituted for another , meaning you can use a different but similar item in place of another.
For example , Wolf meat can be used in place of beef or vice versa.
Following is the list of items that can be substituted.
RESOURCE TYPE

SUBSTITUTES

VEGETABLES

Tomato

Paprika

Pumpkin

Cabbage

Olive

GRAINS / FLOUR / DOUGH

Wheat - Grain/Flour/Dough
Barley - Grain/Flour/Dough

Potato - Grain/Flour/Dough

Sweet Potato - Grain/Flour/Dough

Corn - Grain/Flour/Dough

FRUITS

Strawberry


Apple

Grape

Cherry

Pear

Pineapple

Banana

FLOWER

Tulip

Sunflower

Rose

BIRD MEAT




Kuku Bird Meat

Flamingo Meat

Chicken Meat

REPTILE MEAT




Lizard Meat

Waragon Meat

Worm Meat

Cheetah Dragon Meat

RED MEAT




Deer Meat

Fox Meat

Wolf Meat

Rhino Meat

Bear Meat

Raccoon Meat

Weasel Meat

Lamb Meat

Beef

Pork

SEAFOOD




Cuttlefish

Squid

Seahorse

Shellfish

Starfish

Octopus

Crab

Jellyfish

Crawfish

Terrapin
All the recipes in the game give you some kind of buff when consumed, some stronger than the other.
Most meals are mostly in demand as they give combat/life buffs and they are also needed for Imperial
Crafting Delivery.
You can choose to Sell these meals on the Central market or pack them in boxes for Imperial Crafting Delivery.
IMPERIAL CRAFTING DELIVERY.
This is one of the best way to make money if you dont have a lot of time to spend and /or want to do more active things to earn money or simply enjoy the game (lol).
There are seperate boxes for each tier of cooking level starting from Apperentice to Guru.
Each tier needs different recipes. These recipes are listed in the Crafting Notes tab.
Simply Press F2 , go to crafting notes and search the Box you want to make and the list of Recipes and how many of them can be packed in that box will be displayed.
The number in front of the recipe means the amount of meals needed to pack 1 box.
The respective tier of Cooking level is needed to pack these box , i.e, Guru level is needed to pack Guru Box.
When you have enough materials to pack , Press L to open processing window and click on Imperial Cuisine
and right click on the materials to add it on the menu and start processing.
The number of Boxes that can be delivered in one day is half of the total number of Contribution Points you have. So having more CP means more deliveries in one day.
I have Made a guide about Contribution Points, do check it out here.
The amount of money you earn through these boxes is based on your Cooking mastery.
Higher the mastery , Higher the profit earned on each box.
When Cooking , there is a chance of making multiple recipes in one batch, this is called mass production.
It depends on your cooking mastery. Higher the mastery , higher the chances of getting Mass production.
There is also a chance of getting a higher grade recipe of the same recipe , the chances depend on your Cooking Level.
For example , if you are Cooking skilled 5 , you will start getting Cold Draft beer while cooking Beer.

Cooking is simple , but needs resource management , so you can choose whether you want to be a full time chef , or just a part time imperial crafter.
Lastly , this is the list of items needed to achieve 1 second cooking easily.
| | |
| --- | --- |
| | Seafood Cron meal. (Buy it from Oasis NPC for 1 silver.) |
| | +3 Silver Embroidered Cook's Clothes. (Can be crafted at workshop then enhanced or buy from CM.) |
| | Life Spirit Stone |
| | Verdure's Draught |
| | Advanced / Supreme Cooking Utensil |
| | Canape Costume set (Pearl shop) |
If you do not have money to buy Canape Costume from pearl shop , get +4 Silver cook's clothes instead.
I hope this guide helps you get started with cooking , see you in next one.
Main Character
Dark Knight
Lv 62
Feedback
TopicCOOKING GUIDE FOR BEGINNERS