GM Notes
[GM Note] 06/23 Conquest War Report
Black Desert
2018-06-29 16:00
Comments 0
Greetings, Adventurers!
This is The MMORPG, Black Desert.
 
Check below to see what happened during last Conquest War.
Conquest War June 23, 2018

Territory

Victorious Guild

Participating Guilds

TAX

(Silver)

Balenos

KillOnSight

KillOnSight

BlackOrder (Occupying Guild)

Nephilim

Toxic

5,600,000,000

Calpheon

Empire

Wrath

Empire

UNITY

Ascendance

TriggeredMisfits

IECA (Occupying Guild)

Ares

4,800,000,000

Serendia

SAGA

RenegadesX (Occupying Guild)

Exile

SAGA

Seraphim

5,600,000,000

Mediah

Exalted

Avalon

ROBBED (Occupying Guild)

Chaos

Altair

Noodle

NieR

Henosis

Exalted

8,000,000,000
* Please note that the accumulated tax information presented here is for occupied Conquest War territories in the first week. If the length of occupation is extended or depending on the transfer of tax wagons, the tax from each territory may differ.
[Balenos]
KillOnSight started the battle by rallying their troops to attack Toxic's fort while BlackOrder fought against Nephilim.
The KillOnSight's forces immediately wiped out the defending Toxic and destroyed their fort. On the other hand, Nephilim put up a great defense and pushed BlackOrder back.
KillOnSight's thirst for power didn't stop. They successfully weakened BlackOrder and took hold of their fort - leading to BlackOrder's demise.
KillOnSight then rushed to crush their last enemy Nephilim. They were waiting for KillOnSight on the other side. The bloody battle was between both guild's best offense and defense.
In the end, Nephilim lost their forces and fort. KillOnSight successfully reclaimed Balenos.
[Calpheon]
Wrath launched a raid on Ascendance's command post and penetrated their defenses. A battle ensued as Ascendance tried to repel the invaders.
Ares had a tenacious defense, but was overrun by the sheer numbers of both IECA and Empire. Ares was attacked from both sides and IECA dealt the killing blow. During this time, Wrath finished off Ascendance and demolished their command post.
Emboldened by victory, Wrath and Empire amassed their forces outside IECA's castle. They took turns chipping away at the outer gate. Once it fell, Wrath and Empire stormed through the courtyard to reach the inner gate. However, they were stalled by IECA's defense. After numerous attempts, Empire destroyed the inner gate then led the charge against IECA's command post. A some members of Wrath seized the opportunity and followed Empire in. A massive brawl followed where IECA evicted the invaders from their castle.
Meanwhile, Wrath's main force struck TriggeredMisfits's command post and swept away its feeble defenses. Wrath tore down the fort and kicked TriggeredMisfits out of the war.
UNITY was next to go. Wrath easily destroyed UNITY's command post, as the gate was left open and their defense was absent. In the meantime, IECA finally crumbled under Empire's relentless pressure.
With the war's end within their grasp, Empire regrouped their forces and attacked en masse. They were met halfway by Wrath. Blood was spelt and Wrath was overwhelmed. Despite earlier victories, the superior numbers of Empire proved too much for Wrath. Empire seized control over Calpheon.
[Serendia]
Exile rushed Seraphim and took them out. They then moved to challenge the occupying guild - RenegadesX.
Exile saw that the RenegadesX's fort was unguarded when they arrived. They quickly smashed it.
SAGA and Exile had a long exchange. SAGA eventually went and destroyed Exile's fort and took control over Serendia.
[Mediah]
ROBBED's isolated command post inside the castle was the first to fall. Exalted came and took the command post down in an empty castle.
Exalted rampaged through Chaos, Henosis, and Noodle, as they didn't have any defenders.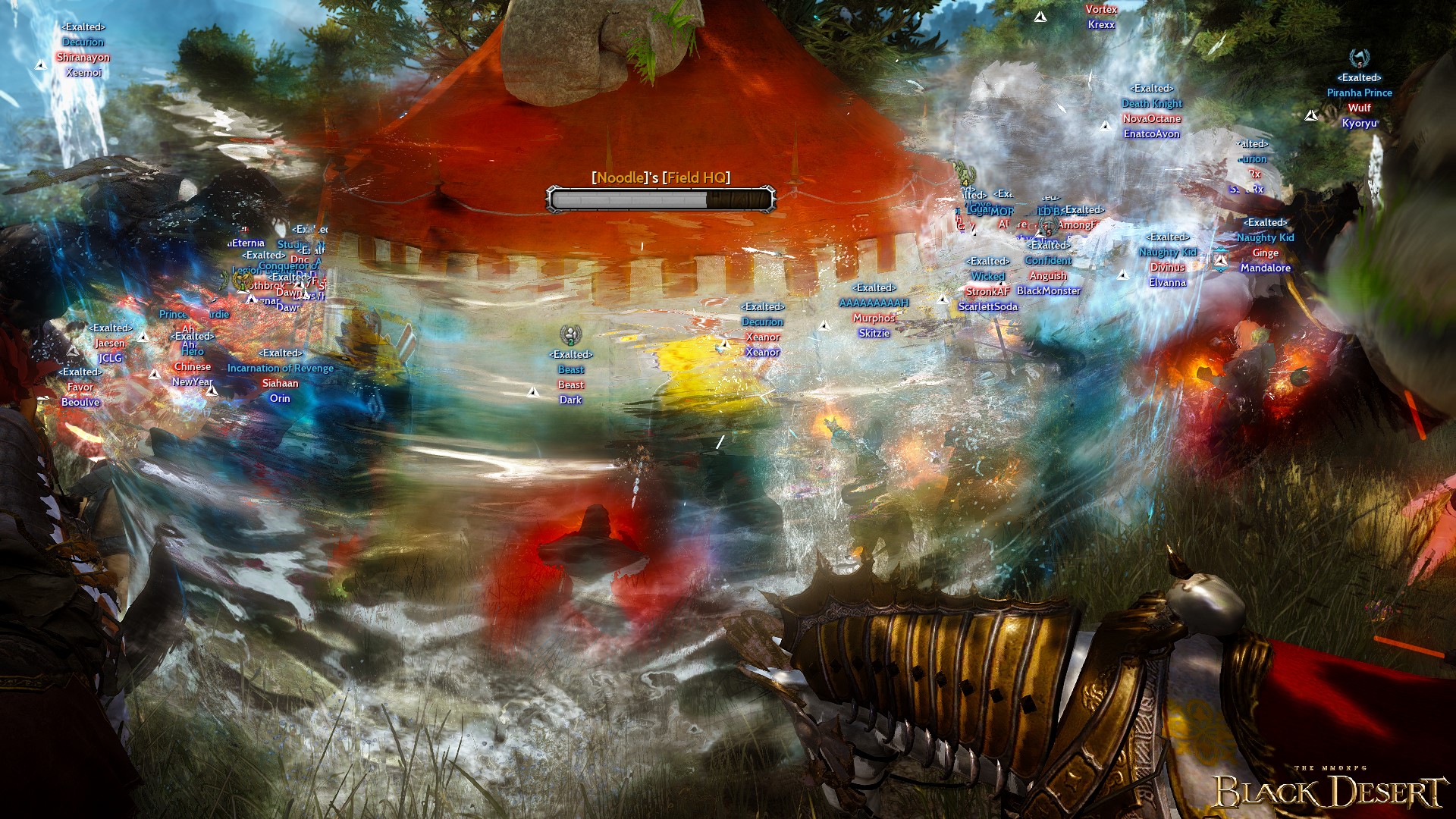 They then took their time to travel from Noodle's command post to Altair's. Few members of Exalted arrived early and helped eliminate Altair.
Exalted then had to go a long way to reach NieR's command post. Exalted's forces used their skills as soon as they arrived at the defenseless command post.
With NieR gone, Exalted was declared the conqueror of Mediah once again.
Thank you
Black Desert Team