GM Notes
[GM Note] 09/01 Conquest War Report
Black Desert
2018-09-07 16:00
Comments 0
Greetings, Adventurers!
This is The MMORPG, Black Desert.
Another Conquest War is over! See below for details.
Conquest War September 1, 2018

Territory

Victorious Guild

Participating Guilds

Balenos

Ascendance

Ares

Ascendance

Serendia

Noblesse

Noblesse

BlackOrder

MANTIS

Calpheon

KillOnSight

Avalon

NOVUS

UNITY

Noodle

IECA

KillOnSight

ROBBED

Mediah

Empire

Exile

Empire

Valencia

Exalted

MurderKing

MyFreeCams

Altair

Exalted
[Balenos]
The battle for Balenos was between Ares and Ascendance.
Ares was the first to strike and went straight to Ascendance's fort. Ares destroyed the Ascendance's gate and attacked their fort. They successfully cut down half its health, but Ascendance eventually pushed them back.
Ascendance immediately retaliated by going straight to Ares' fort with an all-out attack. Ares was not able to withstand this attack and lost their fort. Ascendance claimed victory in Balenos.
[Serendia]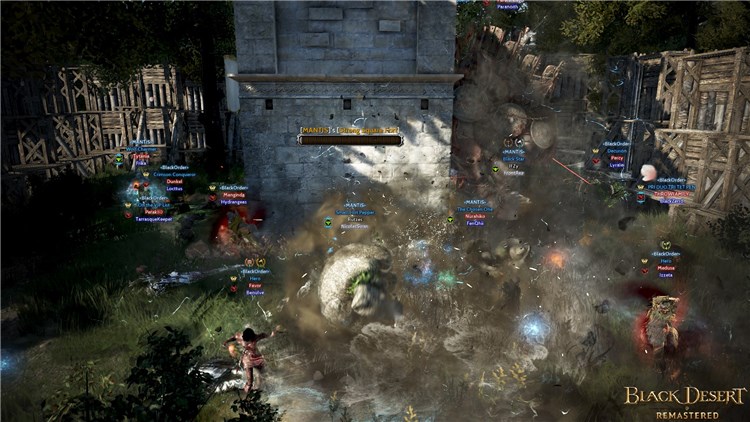 The main fight was between BlackOrder and MANTIS. There were constant waves of attacks from BlackOrder, the occupying guild. Their attacks chipped away at the defenses of MANTIS until it fell. Their fort went down after over an hour of assaults.
Since BlackOrder didn't have any defenders, Noblesse walked-in and destroy their fort to claim Serendia.
[Calpheon]
The initial battle was between IECA, NOVUS, and a few members of Avalon. Eventually, NOVUS' command post was destroyed by the full force of IECA.
UNITY attacked Noodle's command post while IECA tore Avalon's command post apart. Then the raging forces of IECA demolished Noodle's command post.
KillOnSight and ROBBED were locked in a heated battle, but IECA came in and destroyed ROBBED's command post. KillOnSight took this opportunity to defeat IECA and ended their streak. KillOnSight then caught UNITY off guard and eradicated their forces and command post.
KillOnSight was the last guild standing and rules Calpheon.
[Mediah]
The campaign for Mediah was between Exile and Empire.
Empire gathered their force in front of the castle and waited awhile before they attacked. They went all-out, but Exile quickly closed the gates.
Empire chipped away at the outer gate so they could proceed. However, Exile was slowing them down by attacking Empire from behind the gates and above the walls.
As the siege continued, Empire eventually destroyed the outer gate in under an hour.
The inner gate now stood in their path. Exile chose this time to make a big push. They forced Empire out of the castle and all the way to the bridge.
They were able to wipe out the opposing forces, so they took this chance to leave the castle to attack with their elephants.
Exile was able to destroy a section of Empire's walls, allowing them to deal some damage to the command post. However, Empire proved their worth and easily pushed out the attackers.
The two guilds went back and forth for another hour. Then Exile made their last push for Empire's Fort. Empire survived this last ditch effort by nullifying the attack.
Empire was able to destroy the defensive towers and use their full force in destroying Exile as they left the castle empty.
Empire took the seat of power in Mediah.
[Valencia]
MurderKing was the first to fall as Exalted's forces swept them off their feet.
Exalted then moved to Altair as their second target. Altair was completely defenseless and allowed Exalted to clean out their command post.
MyFreeCams was the last opponent for Exalted. However, none of MyFreeCams defenders were seen as Exalted swiftly destroyed their command post.
Exalted claimed victory in Valencia!
Thank you
Black Desert Team