GM Notes
[GM Note] Season Servers?! What's a Season Server?
Black Desert
2020-06-03 10:00
Comments 35
Creating a Season Character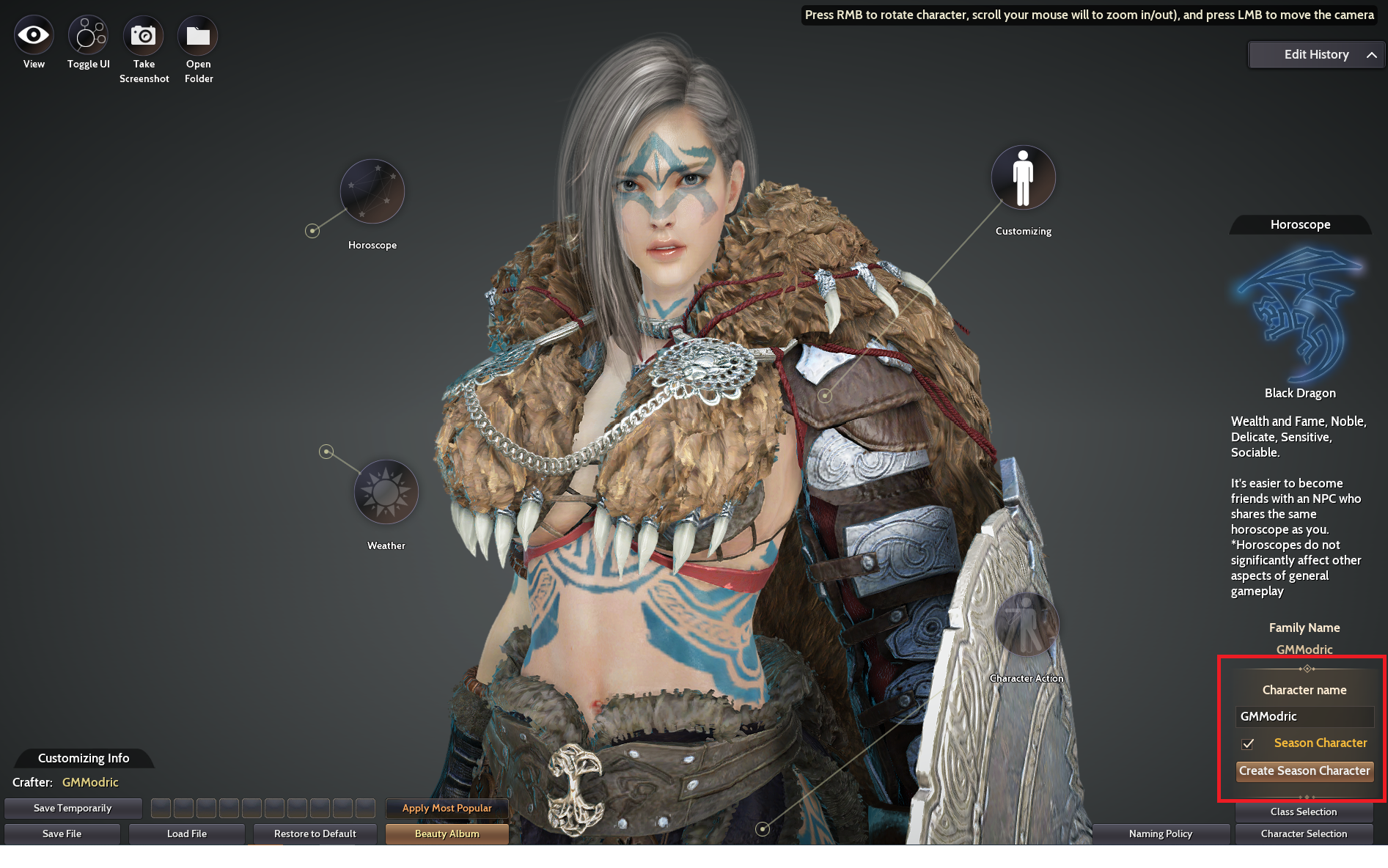 Only Season Characters may enter a Season Server. But before you rush to make a character, keep in mind that you can only create 1 Season Character, so make sure you carefully think about which class you'll play.  
All classes have their own unique characteristics and playstyles, so if you're not sure on which class to choose, you can always try out a class by creating a Trial Character. 
As a Trial Character, you can experiment with any classes' skills in Pre-Awakening, Awakening, and Succession, so give it a try and test them out before you create a Season Character.  
Entering the Season Server 
Now that you've finally chosen your desired class, shall we embark on an adventure to the wide unknown? 
If you feel overwhelmed and not sure of what to do in the massive, open world of Black Desert, you can call upon your cute and helpful (maybe not always) companion, the Black Spirit, by pressing "/", who will guide you along your way. 
The Black Spirit will readily grant you quests, and upon completing them one-by-one, you will discover that you've become quite the seasoned adventurer. So, what are you waiting for? Go and set out for that adventure! 
Also, unlike normal servers, the Season Server will also grant you Combat Experience (EXP) + 100%, and Skill EXP +20% buffs. Since there is no limit to the experience buffs you can acquire, you will always have Combat and Skill EXP buffs. 
Summer Season Challenges 
Complete the Main Quests given to you by the Black Spirit to see your character naturally progress in level and strength. (๑˃̵ᴗ˂̵)و 
Upon reaching Lv. 10, do you see the shining Black Spirit mark on the upper right-hand side of your screen? Each time you reach a certain leveling goal, you will be awarded a leveling aid box. 
There will be items and buffs inside the leveling aid box that will help you in your Black Desert adventure, so it is highly recommended you immediately open and use what's inside the box! 
Oh right! You can also purchase the Black Spirit Pass from the Pearl Shop to obtain even more rewards. 
Leveling with the Main Quest! 
Open the World Map (M) and you'll see a dense fog blanketing over everything!  
From here on, you'll be journeying across the entire continent... doesn't that sound so exciting? ◟( ˘ ³˘)◞ ♡ 
The Main Quests will take you through countless regions, such as Balenos, Serendia, Calpheon, Mediah and others, where you will be able to uncover their past and experience the present with your own eyes. Also, just thinking about how you'll be able to witness the joys and pains of the NPCs from each region makes us giddy with anticipation. 
You can check Main Quests in the Quests (O) window under the "Main Quests" tab. 
The Season Character's Companion! Fugar 
From Velia to all major capital cities,  Fugar will be your Season Server NPC waiting by the Stable Keepers with 40 days of quests, the knowhow and other items to support you on your journey, so please take your time to see him every day. 
Finish all 40 daily quests and there'll be a sweet gift waiting for you! (ง •̀ω•́)ง✧ 
Particularly after completing the Main Questlines in Balenos, Serendia, Calpheon and Mediah, you will be awarded the "Secret Book of Misty Breeze" by Fugar. Use the "Secret Book of Misty Breeze" to acquire a huge amount of Skill EXP, which will help you learn new skills which you would've otherwise lacked the appropriate amount of skill points to learn.  
The Way of the Seasoned Adventurer 
Completing the Main Quests of Balenos, Serendia, and Calpheon with the Black Spirit will grant you Contribution Points which you can use to rent powerful gear from each region. Increase your reputation in the regions and utilize the Contribution Points to don gear that will further increase your strength! 
We look forward to seeing exactly what kind of amazing Adventurer you become! 
[Click here for Contribution Gear WIKI] 
Season Server Only Gear - Tuvala 
If you felt your limits being tested in the wilderness of Mediah, try your hand at obtaining some Tuvala Gear! 
Tuvala Gear boasts a higher success chance for enhancement than normal boss gear, and you can use the Time-filled/Refined Magical Black Stones you've acquired from the daily quests Fugar gave you. 
If your gear's durability breaks due to failing enhancement, you can always seek out the local blacksmith located in every major city to recover your gear's durability. Remember, enhancing slowly and steadily will help your character grow bit by bit. 
Lv. 56, New Fun: Awakening and Succession! 
What! You're already Lv. 56? 
Then pick up the Awakening quest from the Black Spirit's Suggested quests and complete it! 
Once you do, you will gain an Awakening weapon as well as be able to learn Awakening skills.  
You may be wondering, 'I prefer the normal mode's combat style. Do I really have to use Awakening?' 
For Adventurers who enjoy the normal combat style, you can complete Succession quests right after you finish the Awakening quests, which will allow you to use beefed up normal mode skills! 
Both Awakening and Succession provide a refreshing new take and entertainment for our class as well as adding powerful skills, so please make sure to complete them! 
Entering the Valencian continent – Acquire Tuvala materials! 
After completing Awakening or Succession, you will come across the vast desert sands of Valencia!  
Whereas up until this point, you could only obtain the Time-filled and Refined Magical Black Stones from Fughar's daily quests, once you enter Valencia, you'll be able to acquire them looting the monsters you defeat! 
Now the time has finally come for you to step into the role of the Warrior of Tuvala. 
Main Materials 
Item 

Usage 

Time-filled Black Stone 

- Enhances Tuvala gear 

- Exchange for Advice of Valks 

Refined Magical Black Stone 

- Guarantees enhancement of Tuvala gear  

(Depending on the number you can get a guaranteed enhancement up to TRI (III).) 

Tuvala Ore 

- Exchange for Tuvala gear, accessories 
Main Hunting Grounds and Recommended AP to Obtain Tuvala Enhancement Materials 
| | |
| --- | --- |
| Time-filled Black Stone  | Recommended AP  |
| Bashim Base  | 100  |
| Desert Naga Temple  | 100  |
| Titium Valley  | 100  |
| Crescent Shrine  | 140  |
| Gahaz Bandit's Lair  | 140  |
| Polly's Forest  | 160  |
| Fadus Habitat  | 190  |
| Refined Magical Black Stone  | Recommended AP  |
| Cadry Ruins  | 140  |
| Waragon Nest  | 165  |
| Protty Cave  | 170  |
| Tuvala Ore  | Recommended AP  |
| Basilisk Den  | 190  |
| Taphtar Plain  | 190  |
| Pila Ku Jail  | 210  |
| Roud Sulfur Mine  | 210  |
Challenge enhancement! 
Go to Fugarwith TRI (III) or TET (IV) Tuvala gear equipped and he will reward you with items that will increase your success chance at enhancing your gear even further. 
| | | |
| --- | --- | --- |
| Enhancement level  | Equipped # of gear  | Reward  |
| TRI (III)  | 7 pieces  | Advice of Valks +40 x7  |
| TET (IV)  | 7 pieces  | Advice of Valks +60 x7  |
 You can only obtain these Advice of Valks from Fugar during the "Season Server" period, so please make sure to find Fughar before the season ends! 
Upon reaching Lv. 60, 61, Fughar will grant you 1 PEN (V) Tuvala Ring and Earring, respectively, so don't slack off with leveling now, you hear?  
Season Server Graduation - A New Beginning 
Our journey does not end simply with graduating from the Season Server.  
Adventurer, your untold adventure has only just begun. ٩(๑>∀<๑)۶ 
Graduation Benefits 
1) Transfer your Character/Gear to Normal Servers! 
When the Season Server closes, you will still be able to use Tuvala gear, and since they are Family bound, you can move them to other characters in your Family. 
However, Tuvala gear that's been transferred over to the normal servers may no longer be enhanced, so make sure to try and enhance your gear to the highest levels while your character is still in the Season Server! 
2) A Graduation Gift Box! 
For all Adventurers who graduate from Season Servers, we will award a commemorative item! 
This includes the graduation certificate, cap, emojis and a gift box. 
3) A Secret Gift from Fugar! 
If you complete all 40 daily quests before the Season Server comes to a close, Fugar will give you the either a "PEN (V) Capotia Ring or Earring" and Advice of Valks (+100). 
What if you didn't complete all 40 daily quests before the Season ended?!  
Don't worry. You can still complete the daily quests after the Season ends and receive your secret gift in the end. 
4) Exchange Season Gear for Boss Gear! 
You can exchange 1 of your Tuvala gear for a Boss gear with the Graduation Certificate in possession. 
| | |
| --- | --- |
| Tuvala Gear  | Boss Gear  |
| Tuvala Armor  | Dim Tree Spirit's Armor  |
| Tuvala Shoes  | Muskan's Shoes  |
| Tuvala Gloves  | Bheg's Gloves  |
| Tuvala Helmet  | Giath's Helmet  |
| Tuvala Main Weapon  | Kzarka Main Weapon  |
| Tuvala Sub-weapon  | Kutum's Sub-weapon  |
| Tuvala Awakening Weapon  | Dandelion Awakening Weapon  |
| | |
| --- | --- |
| Tuvala Gear Enhancement Level  | Boss Gear Enhancement Level  |
| PRI (I)   | +15  |
| DUO (II)  | PRI (I)   |
| TRI (III)  | DUO (II)  |
| TET (IV)  | TRI (III)  |
| PEN (V)  | TET (IV)  |
※ You can exchange a TET (IV) Tuvala Shoes for TRI (III) Muskan's Shoes by using your graduation certificate. 
※Boss gear obtained by using your graduation certificate will become Family bound and unavailable to be registered on the Central Market.