Events
[Event] Learning about the Land of the Morning Calm
Black Desert
2021-02-03 10:00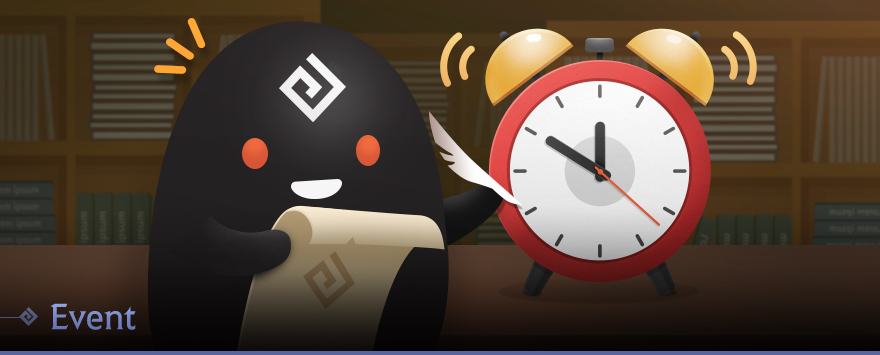 In this time of the year, the residents of the land of the morning calm share well-wishes and warm words! As we await the upcoming spring, let's learn about the customs of the land of the morning calm and get amazing rewards as well! (•ө•)♡
Event. Learning about the Land of the Morning Calm
Event Period
- February 3, 2021 (Wed) after maintenance – February 24, 2021 (Wed) before maintenance
Event Details
- During the event period, talk to the Black Spirit (/) to accept and complete a special Adventure Log.
Adventure Log

Completion Requirements

Rewards

[Page 1]

The Day of the First Moon

Talk to the Black Spirit

Contribution Points 300

Cron Stone x10

[Page 2]

Between Well-wishing Remarks

 

Greet the following residents of Velia

- NPC Igor Bartali

- NPC Islin Bartali

- NPC Alustin

Contribution Points 300

Memory Fragment x10

[Page 3]

This is how you grow 1 year older!

Show the log to the Velia NPC, David Finto, and give him the ingredients for Rice Cake Soup.

- Wheat Flour x100

- Bird Meat or Chicken Meat x10

Contribution Points 300

Valks' Cry x5

[Page 4]

Fate left to the Yut Dice

Find the Velia NPC Adventurer and complete the quiz quest.

Contribution Points 300

[Event] Enhancement Help Kit I x1

[Page 5]

Hope Drawn in the Air

Talk with the NPC Villager in Heidel

Contribution Points 300

Cron Stone x30

[Page 6]

Until That Day Returns

After completing pages 1-5 of the Adventure Log, talk to the Black Spirit (/)

Contribution Points 300

[Event] Gold Bar Box x1
* This Adventure Log must be completed in consecutive order.
* Characters must be at least level 20 or higher to accept the Adventure Log. The Adventure Log can only be completed once per Family.
* The NPC mentioned in the 4th page of the Adventure Log will not appear between the Black Desert world times of 12:00 AM – 5:00 AM.
* The [Event] Gold Bar Box obtained as a reward for completing the Adventure Log will allow you obtain one a Gold Bar 100G - 1,000G
* You can complete any accepted quests after the end of the event period, but you will not be able to further progress the Adventure Log, so please make sure to complete the Adventure before the end of the event.
※ Event Notices
- Pearl Abyss reserves the right to change or cancel the event depending on circumstances. If changes are made, they can be found on this event page.
- There may be restrictions on trading/selling event items, and they may have usage expiration dates and different binding settings. These items cannot be transferred or restored due to this reason.
- Please refer to the in-game item description for details on whether the item is bound.
- Items that were sent or used as intended cannot be recovered or restored.
- Participating in the event using inappropriate methods will result in a cancellation/retrieval of your reward and restriction from the game.
- If you have any questions about this event, please send a ticket through [Support].
- Content not listed on this page follows the [Black Desert Event Rules].