Notices
[Notice] [Completed] May 4, 2022 (Wed) Service Maintenance Notice
Black Desert
2022-05-02 15:45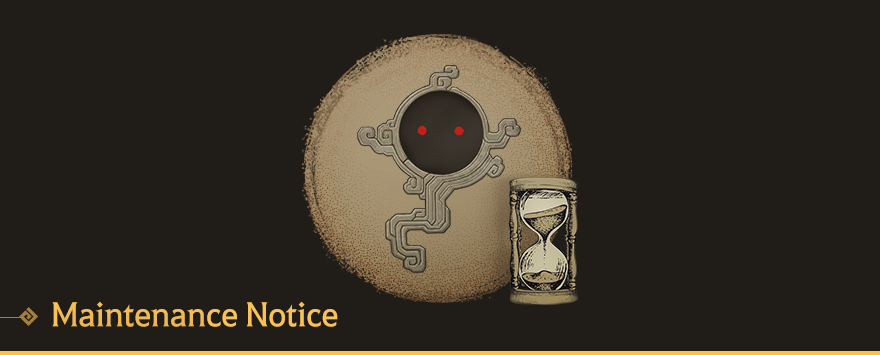 Greetings Adventurers!
We will be performing our regularly scheduled maintenance on May 4, 2022 (Wed) for our Black Desert game and website services in order to improve these services and bring you the latest updates.
During this time, the services undergoing maintenance will be temporarily unavailable.
Please refer below for more information regarding the maintenance.
---
Maintenance Details
■ Game Maintenance
- Maintenance Period: May 4, 2022 (Wed) at 06:00 AM ~ 10:00 AM (GMT +8)
- Affected Service(s): Black Desert game servers
- Impact: All Black Desert servers will be unavailable; Unable to send items in Web Storage to in-game
* Once maintenance begins, you will be disconnected from the game even if you are waiting in-queue.
* Please move your character to a safe location (safe zone) before exiting the game/maintenance begins in order to avoid being attacked by monsters or other Adventurers.
* You may receive an error message if you try to sign-up on our website during the maintenance.
* If you receive an error message stating that you are already logged in after the maintenance, please try restarting your client.
■ Website Maintenance
- Maintenance Period: May 4, 2022 (Wed) at 06:00 AM ~ 08:00 AM (GMT +8)
- Affected Service(s): Black Desert official website
- Impact: All website services will be unavailable


* The above maintenance schedule and details are subject to change. Any changes will be announced as an update through this notice.
Update Preview
● Early Graduation for Season: Drakania will become available.
● Artifact Inventory Update
- Allows you to store Artifacts and Lightstones in a separate Family-wide inventory.
- The durability of Artifacts will be changed to be unlimited. (Item Brand Stones used on Artifacts will be sent to your in-game mailbox.)
● The following items will be changed to no longer display a world message and make your character cheer upon obtaining them:
- Bensho's Necklace, Ancient Guardian's Seal, Necklace of Shultz the Gladiator, Witch's Earring, Mark of Shadow, Rainbow Coral Ring, Kagtum Submission Ring, Tree Spirit Belt, Ancient Weapon Core, Blue Whale Meat, Clear Blackstar Crystal, Liverto Weapon Box, and Liverto Weapon Bundle
● The Papua Crina [Co-op Daily] Intelligent Stoneback Crab quest will be changed from a co-op quest to a solo quest.
● [Event] Adventuring with Delicious Meals
● [Event] Hunter's Seals, Moles, and Hards?
● [Event] Valks' Endless Advice
● [Event] Marni's Misplaced Research Sample
● [Event] Flourishing Drop Rate Hot Time
● [Event] Nothing Better than Juicy Mangos!
● [Event] Upgrade Your Trial Pass to a Game Pass!
● [Event] Season: Drakania's 100 Loyalties Shop


We appreciate your patience and support while we work on providing you with better services.
Thank you!