GM Notes
[GM Note] 05/05 Conquest War Report
Black Desert
2018-05-11 14:50
Comments 0
Greetings, Adventurers!
This is The MMORPG, Black Desert.
We present you the highlights of last week's Conquest War that happened on May 5th.
Conquest War May 5, 2018

Territory

Victorious Guild

Participating Guilds

TAX

(Silver)

Balenos

MurderKing

MurderKing

Conquistador (Occupying Guild)

Nephilim

MaximuM

TerataiHitam

Yakuza

Ravagers

4,800,000,000

Calpheon

Exile

Ares

Instinct

Exalted

Sinister (Occupying Guild)

KillOnSight

XIIl

Affinity

Exile

4,100,000,000

Serendia

Toxic

LUXURY

Toxic

UNITY

IECA

MyFreeCams

Empire

Scions (Occupying Guild)

4,800,000,000

Mediah

ROBBED

Daunting

Chaos

Avalon

Legionnaire

Garuda (Occupying Guild)

Concordium

ROBBED

Altair

6,800,000,000
* Please note that the accumulated tax information presented here is for occupied Conquest War territories in the first week. If the length of occupation is extended or depending on the transfer of tax wagons, the tax from each territory may differ.
[Balenos]
MaximuM delivered the first killing blow in Balenos to TerataiHitam.
They then found themselves fighting against both Ravagers and Yakuza. Their defense was strong enough to hold off the two guilds attacking them simultaneously.
Conquistador tried to infiltrate MurderKing but failed against MurderKing's best defense tactics. After a long fight, MurderKing successfully repelled the attacking forces.
MurderKing was later targeted by Conquistador. Ravagers joined in the attack as well. However, MurderKing was able to push both guilds back.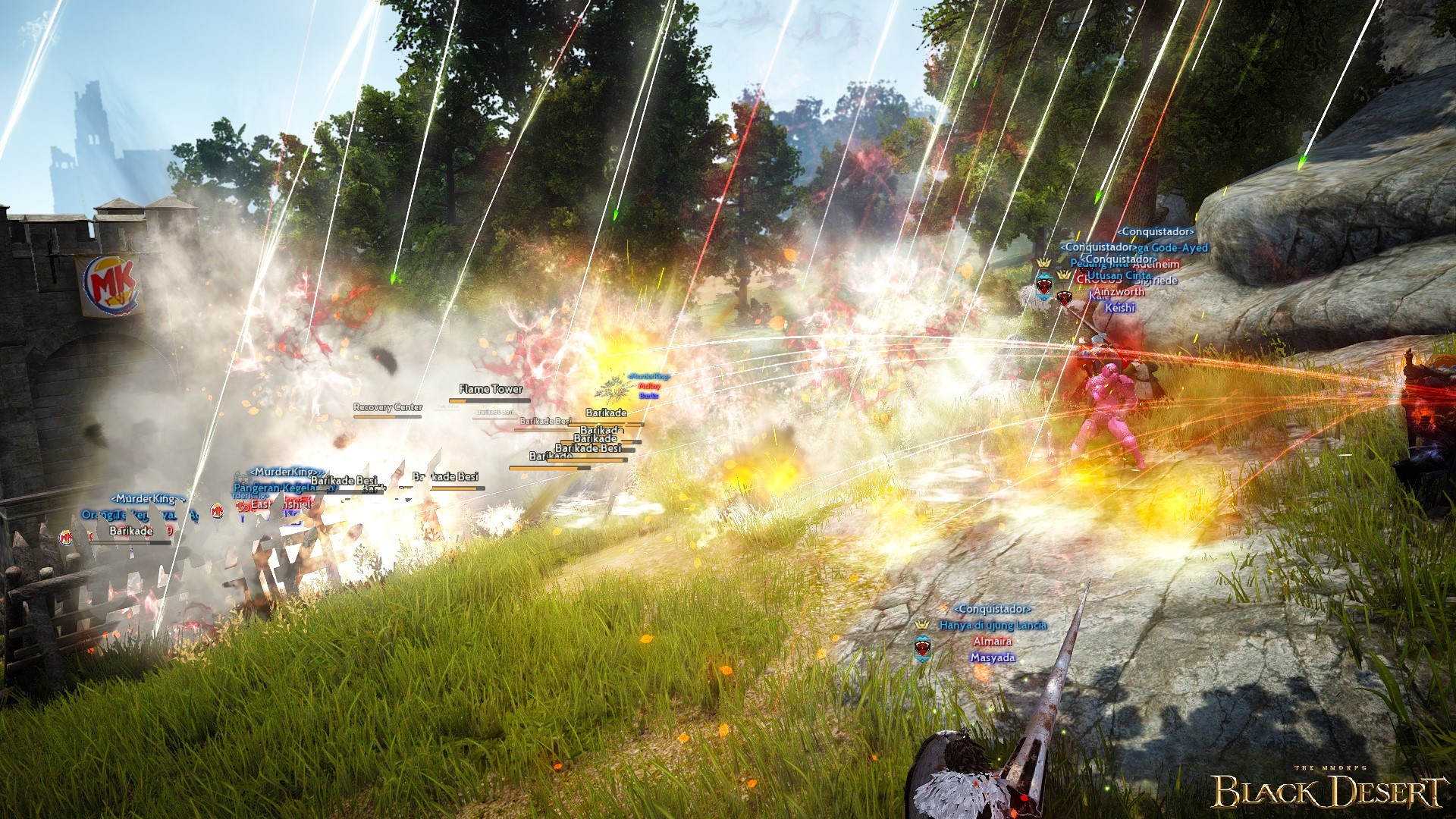 Afterwards MurderKing went all out and took down Nephilim, Yakuza and Conquistador.
MurderKing was able to defeat Nephilim easily as they outnumbered them. Yakuza put up a good defense at their forts but MurderKing was able to overpower them. Conquistador (the occupying guild), was attacking MaximuM at the time. This is when MurderKing surprised them and was defeated before they could regroup.
The last battle between MuderKing and MaximuM. The two guilds regrouped their forces at their forts and prepared for the fight. MurderKing was first to make a move and the ensuing battle was fierce. MaximuM was able to hold their enemy at bay but MurderKing proved they had the experience and right tactics to defeat them. MurderKing conquered Balenos and is the current occupying guild.
[Calpheon]
The battles in Calpheon are always a sight to behold.
KillOnSight had attacked Affinity's command post to deal massive damage but had to pull back as Exalted rushed to attack KillOnSight's command post. KillOnSight met Exalted in combat and pushed them back. Meanwhile, Exile destroyed XIII's command post.
Instinct and Exile assaulted the castle gates together. The gates were defended by Sinister. The gates were destroyed and Sinister fought desperately to kick them out.
Exile went to regroup before attacking Sinister again. This battle turned into a brawl as Sinister sought to defend their damaged command post.
KillOnSight lay siege to Exalted's command post. Exalted was able to break the siege and force KillOnSight to retreat.
After a long brawl, Exile destroyed Sinister's command post. KillOnSight was now the biggest threat in Calpheon. Exalted was joined by Exile and Instinct as they started to attack KillOnSight.
Exalted landed the finishing blow and removed KillOnSight from Calpheon.
Ares destroyed Affinity's command post during this time. Exile and Instinct then stormed Ares' command post and made Ares rush back. Ares was able to fight off the attackers.
Hungry for revenge, Ares staged an attack on Exile's command post. They were met by tough resistance. Instinct took this opportunity to attack Ares' lightly defended command post. The few defenders of Ares fought like cornered beasts to buy time for their main force to get back.
Exile regrouped their forces and attacked Ares' command post. It was like watching water hitting a rock, they could do little against Ares' defense.
Exile and Instinct advanced together against the powerful Ares defense. However, Exile eventually ousted Ares.
Instinct launched a blitzkrieg against Exalted and demolished their command post.
Exile decimated the defenses of Instinct and cast down their command post. Exile claimed lordship over Calpheon.
[Serendia]
The battle for Serendia was fast and furious.
Each participating guild went out to attack from the very start.
Toxic made quick work of Scions' defense since some of them were out attacking.
Toxic then turned to attack Empire which UNITY attacked as well. Empire struggled to defend against two guilds attacking their fort from different sides.
Toxic then attacked UNITY's forces as they headed towards UNITY's fort.
At this time, IECA was able to crush LUXURY and their fort after a long battle.
Toxic then returned to Empire's fort and finished it off before Empire could recover.
Toxic marched forward to IECA as the battle draws to an end. IECA gave Toxic a hard time and protected their forts for a while. Toxic still got the upper hand in the end and successfully wiped them out and claimed Serendia.
[Mediah]
The fight for Mediah was dominated by one guild that showed their strength and tenacity from the beginning.
ROBBED, unlike their last week, showed that they have grown stronger and made sure to take control of Mediah. One after another ROBBED was able to destroy the command posts of Legionnaire, Daunting, Avalon, Concordium, Altair, Garuda, and Chaos.
Each guild seemed to have planned to attack each other but none were successful.
Legionnaire was the first victim in this slaughter. ROBBED was able to wipe out their defending forces then proceed to destroy their command post.
Daunting was next. Daunting had recently attacked Concordium but failed to take them down. ROBBED appeared when they were still recovering and had their command post dismantled.
Altair and Chaos were fighting for a while and neither of them showed any signs of stopping. Altair then regrouped to recover at their command post.
Avalon met ROBBED forces as they were going back to their fort and had to fight the way. ROBBED moved at top speed and plowed through Avalon's forces and command post.
Concordium and Altair shared the same fate as there were still recovering from their unsuccessful attacks. They were removed by the savage ROBBED forces.
Garuda finally stopped ROBBED's momentum. Both forces met on the open battlefield at first as ROBBED made their way to Garuda's castle. The defense was able to repel all the attacking forces and made time to recover. After both guilds fully recovered, ROBBED came back once again to finish what they started. Little by little, ROBBED pushed on, reached the command post, and eventually destroyed it.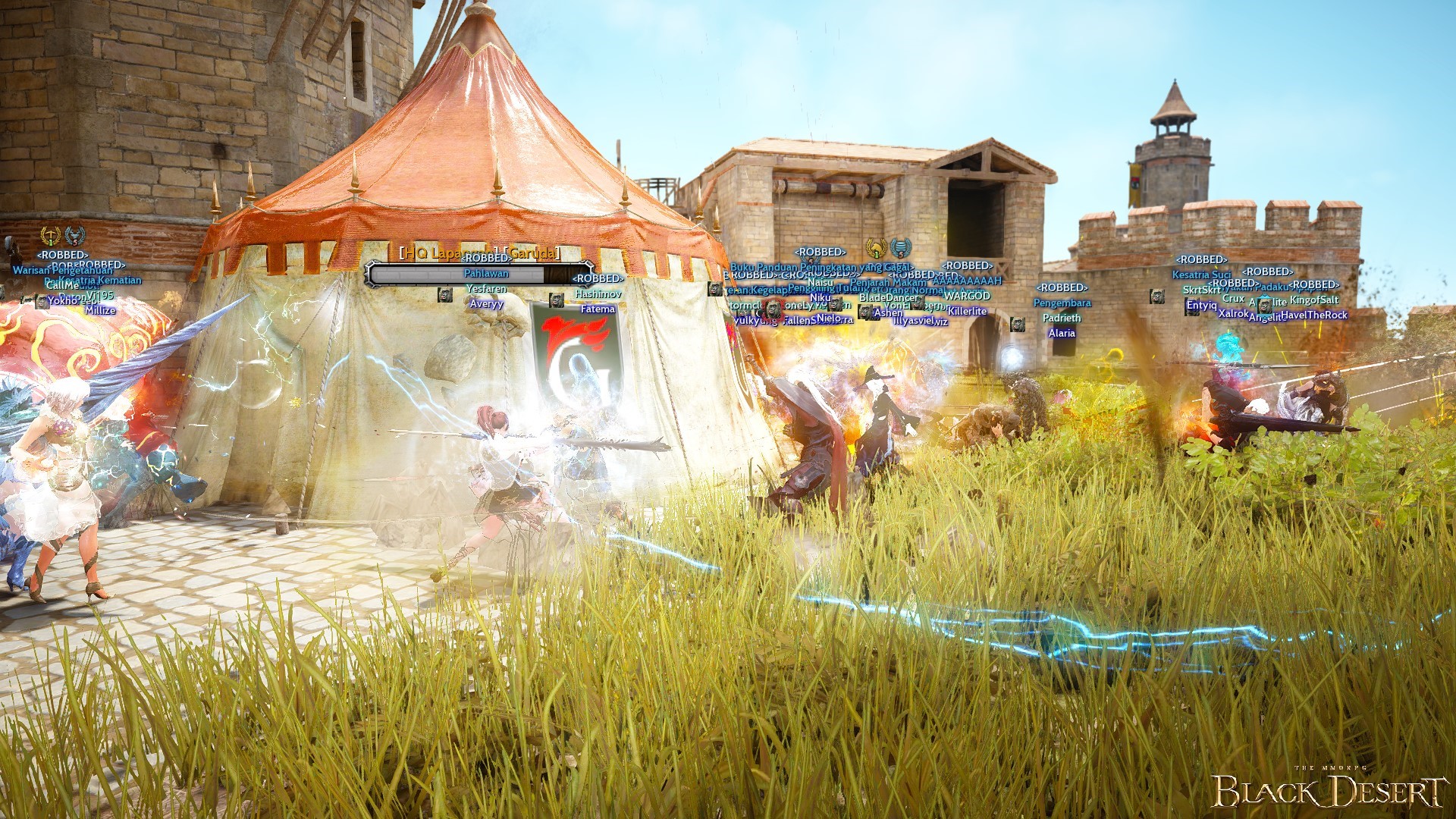 Chaos was the only one left and ROBBED defeated them easily and rules over Mediah.
See you next week!
Black Desert Team