Events
Feb 23, 2022, 10:00
No Better Time to Gather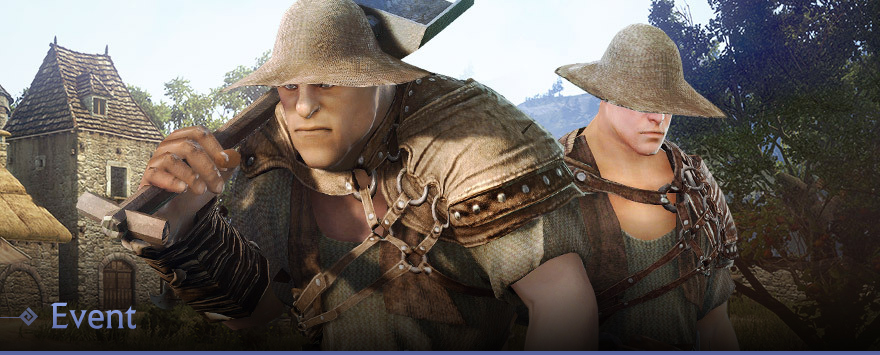 Event Period 
- February 23, 2022 (Wed) after maintenance – March 9, 2022 (Wed) 07:00
Event Details 
- During the event, the following Life (Gathering & Hunting) EXP +50% buffs will be active.  


Active During the Event 
Life (Gathering) EXP +50% 
Life (Hunting) EXP +50% 
 Event Period 
- February 23, 2022 (Wed) after maintenance – March 10, 2022 (Thu) before maintenance 
Event Details 
- Gather during the event for a fixed chance to obtain the event items below! 
Gathering 
You can obtain the event item from a variety of different Gathering activities (Lumbering, Fluid Collecting, Butchering, Tanning, etc.). However, you cannot obtain the event item from Water Scooping, Digging with a Shovel, or Milking. 
Obtainable via Gathering 

Sell Price (NPC Vendors) 

 

[Event] Golden Insect Amber 

10,000,000 Silver 

 

[Event] Winter Spirit's Snowflake 

30,000,000 Silver 
Additional Notices 
- The [Event] Golden Insect Amber and [Event] Winter Spirit's Snowflake are additionally dropped items and do not affect the drop rates of existing items. 
- Pearl Abyss reserves the right to change or cancel the event depending on mitigating circumstances. If changes are made, they can be found on this event page. 
- Event items may have restrictions (sale/trade) and/or different binding settings/expiration dates. Due to this reason, these items cannot be transferred or restored. 
- For details such as whether the item is bound, please refer to the in-game item description. 
- Items and/or rewards that were used normally cannot be recovered. 
- Participating in the event using inappropriate methods may result in a cancellation/retrieval of your reward(s) and/or restriction from the game. 
- For any questions or concerns regarding the event, please contact us via [Support]. 
- Any content not mentioned on this page is subject to the [Black Desert Event Rules].