GM Notes
Dec 1, 2022, 18:15 (UTC+8)
2022 Arena of Arsha Finals Recap
The 2022 Arena of Arsha took place over the past three weeks! 
On the day of the finals, I, [GM] Nasrin, met the four teams that heated up Arsha by fighting fiercely with the aim of being crowned the best team!  
▲ 4 Teams with [GM]Nasrin!
Whoa! I can feel the passion for winning!
Also, there was a bit of a side event for Adventurers that were waiting for the finals to begin.
The challenge event was held for a week before the finals in the form of a question - Which team did you expect to win? XD 
Adventurers' predictions were as follows! 


접기
| | | | |
| --- | --- | --- | --- |
| Team 1 : GrindMore | Team 2 : Rats | Team 3 : Ascendance | Team 4 : Desync Carried |
| 42.99% | 23.71% | 17.82%  | 15.45% |
However, which team was crowned the best team?! Let's roll out the red carpet for the winners - drum roll please!  
.
.
.
.
.
.
.
GrindMore
(Flaxy / Qiin / WinTrader)
Desync Carried
(ScarHDR / Aerov / Ferrarae)
Rats
(Lestilles / Clowntol / Janey)
Ascendance
(Violence / Dykrie / TheRespected)
Ta-da! 
Congratulations to the winning team and everyone who voted! 
Did the "GrindMore" team have expectations of their grand victory?
Let's go straight to the interview where I spoke with the team to see if there was a special strategy laid out!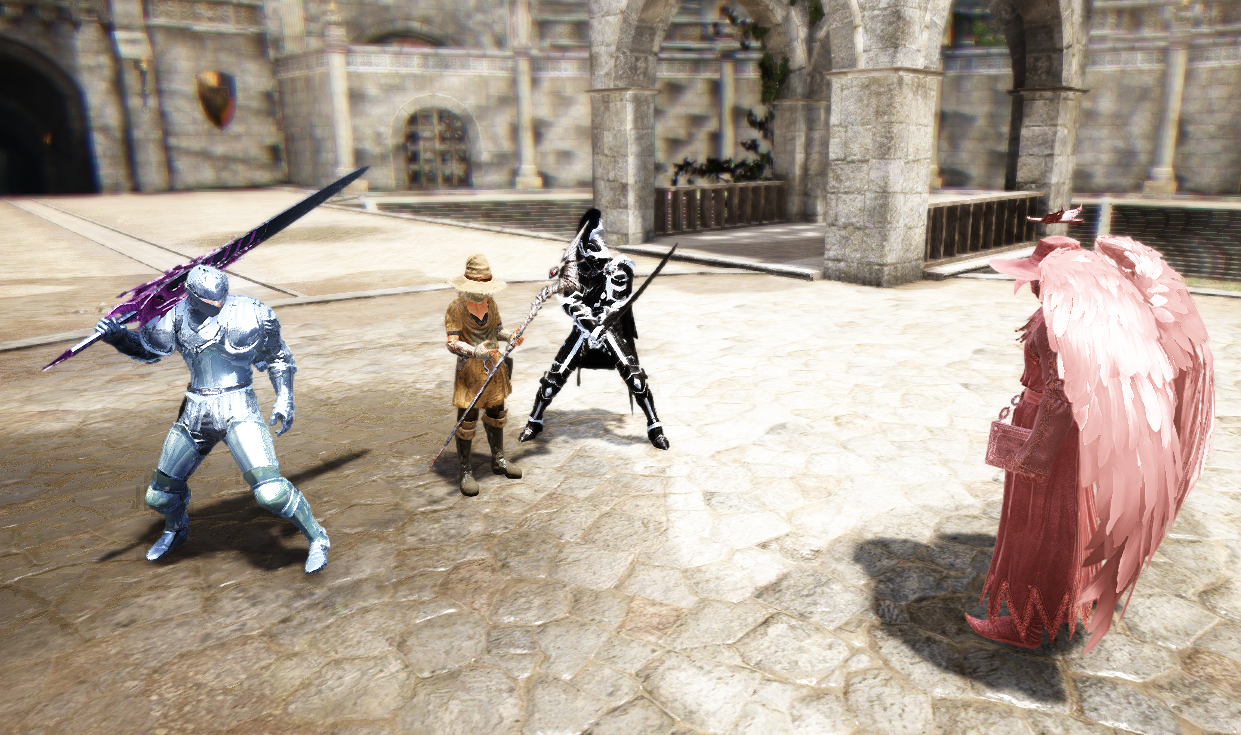 ▲Team GrindMore & [GM]Nasrin for Interview!
I met the 'GrindMore' Team who won the thrilling final!
[GM]Nasrin
: Hello, Hello!
First of all, congratulations on winning! 
(I clapped for them, but since this was in-game chat, they didn't hear it =[  )
[GM]Nasrin
:
Could you please introduce team Grindmore? 
Flaxy
: Hello, we are team GrindMore consist of Qiin and Wintrader. 
Wintrader : Hello, I'm WinTrader, most people in SEA know me as Kazinski which was my previous family name. 
Qiin : Hi im Qiin i like BDO 
[GM]Nasrin
:
Did you team up with the adventurers you already knew before?

Qiin : Yes i have known these guys for years 
Flaxy : Yes from the beginning of the game 
Wintrader : We used to be in Dream together 
[GM]Nasrin
: What are the strengths and charms of the team?

Flaxy : Great communication and trust on each other 
Wintrader : Also we have musa, which is the strongest class in the game. 
Qiin : I am the weak link. Wizard needs buff.
 ▲Team GrindMore on the final stage!
[GM]Nasrin
: When you first applied for participation, what rank did you expect to be?

Flaxy : We just wanna have fun and do our best
Qiin : We have a Musa and a Warrior the two strongest classes in the game so i thought we would do well...


[GM]Nasrin : Wowo!! Have you ever participated in AOA before? 

Flaxy : No this is my first time 
Qiin : Umm..
[GM]Nasrin : Ummm... means yes? >< 
Qiin : As you can see from my title XD 
(His title was Arsha's Proof....!) 
▲Team GrindMore
WinTrader(Warrior), Qiin(Wizard), Flaxy(Musa)
[GM]Nasrin : How long did you practice for AOA? 


Flaxy : 4 weeks ago once a week
[GM]Nasrin : What was the strongest team you met in AOA?


Flaxy : The last one definitely_ Desync Carried
Wintrader : YEONHWAFC was also really strong
Qiin : The last one was the super strong! And also Evasel Clorinda and Joykids team! Succ Drak + Shai GG


[GM]Nasrin : What tips would you give to other adventurers who will participate next AOA? 


Flaxy : GrindMore to maximize your chances of doing well
Qiin : Grind more.



[GM]Nasrin : Team name is the KEY! right?><
Qiin : ahhaha 
Wintrader : Thank you for hosting as well! It was really fun ty 

Flaxy : Ty gm 
According to GrindMore, the key to victory was in the name of the team!
Once again, congratulations to the GrindMore team and thank you so much for taking the time to do the interview!
Also, let's give a big round of applause to the team Desync Carried, Rats, and Ascendance -- who took 2nd, 3rd, and 4th place respectively, too! 
Thank you to all the adventurers who cheered on the 2022 Arena of Arsha, and please look forward to any upcoming PVP content of Black Desert! 
If you missed the action or want to check it out again, click the link below!